Apples & Americanos
Posted by Sylvia Zygalo on Sunday, November 29th, 2009
Tags for this Article: New York, NYC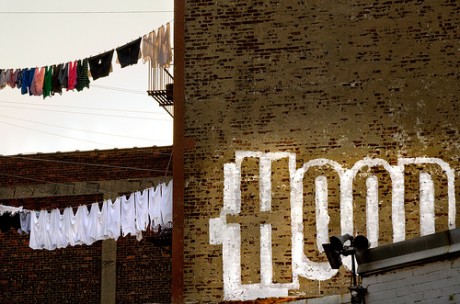 Photo Courtesy of Tracy Collins
All the words ever written about New York weigh heavy in humility against the ones written here, but the way that I saw the city was exclusive to the emotions that evolved within it. They are my own.
It was my first visit by way of an invitation that became intimate through a mind free from expectation & in liberation to explore. I arrived at 6am & driven directly to Brooklyn, to a short & sweet love affair with a loft at 66 Water Street in DUMBO. I had made only one request in that my introduction to the city was genuine in discovery of its hidden gems.
Our first destination was The Standard Grill in the Meatpacking District, where we sat at the raw bar & had a buoyant lunch consisting of beefy oysters & crisp, gin cocktails with lime. I left my seat in search of a bathroom, where I discovered several crates of apples stacked against a cornered wall & took two for our walk over to the Highline. The sun was then beginning to sulk & its reflection against the buildings made for an illuminating transition of metallic colors. As the evening evolved, we agreed on The Vinegar Hill House for dinner, which ignited my curiosity after reading Frank Bruni's review on it in the New York Times. I was sold – both aesthetically through its online presence & by the agrarian foods of which it promised. The wine list inflicted a slight sense of temptation also. & so we went, but departed without dinner or drinks as it was too crowded, too loud & too long of a wait for us to linger. One to reserve for a repeat rendez-vous in the city. The end destination of the evening was ideal: a split medium-rare burger of blue cheese & caramelized onions at Maggie Brown's.
Saturday was a subtle day with a sun as warm & sweet as one seen in the first week of October. I was lucky. We grabbed two americano's from The Coffee Box & jumped on the subway for another slew of stops to Brown Café. We ordered baked eggs with tomatoes, asparagus & manchego, & a quiche with roasted peppers, caramelized leeks & gruyere. A nostalgically charming restaurant with gracious service & a gratifying meal – I could not have asked for better out of my brunch. We broke away from the Lower East Side & uptown towards the MoMA for the Bauhaus exhibit. I could not cultivate any chemistry from the first phase of the exhibit, which bore a manifestation of medieval structures & framed textiles hanging from walls. I was done in finally once arriving at the influence of Mies van der Rohe at Bauhaus. I adore him & admire the direction in which he diverted architecture to at that time.
The remainder of the afternoon was draped over time, consenting to its stillness while we lounged shamelessly in Sheep's Meadow. Yes, it was as sickly sweet as it sounds & I loved every moment of it. We walked over to The Boathouse in Central Park, which boasts a Bostonian feel with its wooden structure, predominantly leather décor & a football game gleaming tactfully in a corner overhead. We sat at the bar & ordered two gin martinis & a dessert plate of cheese, fruit & crisp bread. Forget about the diluted disappointments that I often get in Vancouver & welcome well-made & aggressive martinis that are forceful to the senses. One was always enough, although we didn't always stop there.
I fell in love with Blanc & Rouge in Brooklyn, where immediately upon entering, felt betrayed by British Columbia both in terms of cost & selection. Intimate & nonchalant with chill & knowledgeable service. Throughout the four days, we bought a 2007 Guidobono Nebbiolo, a 2007 Poppy Pinot Noir from Monterey County & a 2007 Petit Sirah from the North Coast. All different, delicious & under $20 USD. The loft is also blessed with Jacques Torres, & so we would occasionally select a variety of chocolates to attend to with the wine. Life, she is hard. You have to bury yourself in these moments when you get the chance & bury beautifully I did.
The minimal maintenance of calories from the chocolate cultivated cravings for sushi & sake, which lead us to the Blue Ribbon in Brooklyn. We ordered a wooden box of cold Junmai with hints of pear & a scattered selection of sashimi & rolls. It was ignorant of me to believe that Vancouver probably does sushi best next to Japan.
Sunday morning started with the Farmer's Market in Brooklyn, where we bought two apples & a black Russian rye with raisins & walnuts. Placed perfectly next door was theBrooklyn Flea, where I decided that I need never to shop anywhere else but there. I think I may have actually started skipping. Grand Central Station & the train to Garrison came thereafter. An hour traveling through New York & for what felt like skimming across the Hudson River in the sunset, we arrived & made dinner of a Warm Salmon Salad Niçoise for Stefan Boublil, his wife, Gina & their two adorable kids, Leelo & Zoel. We sipped on Dolcetto & Nebbiolo whilst discussing the various dimensions of life.
It was cold & cloudy on my last day there, which felt appropriate for the occasion. Back at the loft, lunch was simple & shared with silky slices of San Daniele over Petit Sirah & a following americano. En route to the airport, we stopped to have dinner at Luze, where we sat at the bar & shared a trio ceviche, an entraña & our final gin martini together.
I was surprised to have had all my stereotypes shattered so swiftly. I thank my gracious boyfriend for averting me towards an angle of New York that is both raw & intrinsic in its being. New York City is a beautiful beast.