Something Fishy at Provence Marinaside
Posted by Mark Busse on Saturday, April 3rd, 2010
Tags for this Article: April Fools', fish, Nancy Wong, Poisson d'Avril, Provence Marinaside, restaurants, review, vancouver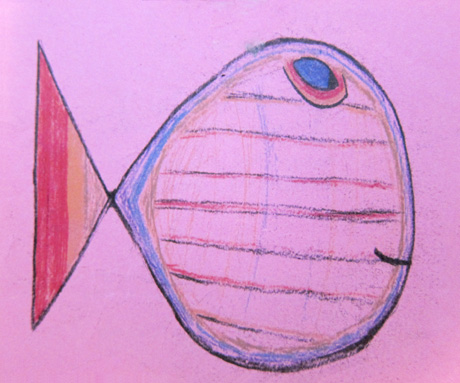 An experienced food writer friend once warned me to be suspicious of invitations from restaurants whenever a *free* meal was involved, explaining how difficult he found it to write objective and credible accounts of the experience when a guest of the house. So when I received my invitation to sample seafood to kick off Provence Marinaside's Poisson d'Avril festival, I found the whole affair a bit *fishy*.
I'd already eaten at both Vancouver locations of Provence before (Marinaside is a great place for weekend brunch in summer), and I enjoyed each experience, so when the lovely PR powerhouse Nancy Wong invited me to dine with some of the city's culinary elite, I knew there was only one answer: yes please!
I like fish when it's done well, but that's the trick isn't it? You can muck up fish faster than Anthony Bourdain can drink a shot of snake blood rice wine—wait, what? Anyway, I was looking forward to seeing what Executive Chef Jean-Francis Quaglia had in store, and curious to find out what all the hoopla about their fish celebration was about.
With varying tales of its origin, the French have their own quirky version of April Fools' Day called Poisson d'Avril (literally April's Fish) where people welcome spring with a little fun and some practical jokes, such as sticking paper cut-outs of fish to friends' backs without them noticing. They could walk around for hours before someone finally points and yells "Poisson d'Avril!", exposing the victim. The fun lasts the whole month of April, with restaurants, patissiers and chocolatiers, serving fish-shaped treats to customers with a giggle. Oh those French, such clever tricksters.
When I arrived at Provence Marinaside, a quaint French restaurant tucked along the eastern edge of Yaletown next to False Creek, I found the dining room decorated with adorable child-like drawings of fish. Huddled in the corner was a growing crowd of the who's who of Vancouver's food scribes, and as I joined them I was welcomed with an offering of two rosé options, one from the BC Okanagan, the other from France—I sampled both of course, preferring the Hester Creek actually.
As I chatted with old friends and introduced myself to many foodies I'd only ever known from their writing, I felt a soft tap on my back. A quick glance behind revealed nothing in particular, save for a waitress setting a table. Then I noticed the paper fish stuck unknowingly on the backs of virtually everyone in the busy dining room and realized the games had begun. Would a child run through the crowd yelling "Poisson d'Avril!" soon?
When dinner was served, I found myself at a table with my old friend Rhonda May of CityFood. Across from me sat the bon vivant Sid Cross and his charming wife Jane. Beside me sat food writer Judith Lane, Vancouver Magazine's Christina Burridge, and Paul Kamon from Urban Diner. At the next table was another group of food fanatics, including Vancouver Foodster Richard Wolak, George Froehlich of Savvy Insider, Cassandra Anderton of Good Life Vancouver, Michael Schratter of 24hrs, freelance food writers Jason McRobbie and Raj Taneja, and fellow Foodist Melody Fury, founder of Vancouver Food Tour.
As the dishes started to arrive, starting with halibut cheek confit followed by a duo of smoked fish, we feverishly started to dismantle the plates before us. Not surprisingly, by the time we'd finished our mackerel façon bouillabase and were served our entrées, conversation had turned to cooking, wine and recent culinary exploits. I loved the food, although like any great meal, it was the lively conversation with good humoured, like-minded people that made the experience so memorable.
Entrée options included citrus dusted wild salmon served with asparagus and fingerling potatoes, halibut with dried plum vinaigrette with saffron potatoes and green beans, and baked sardines with Mediterranean vinaigrette, farro, arugula and spinach. There was also a daily whole fish option of sea bream served with seasonal vegetables and seven grain rice, and a pan fried sablefish on a bed of snow pea sprouts, piquillo peppers, shaved fennel, orange, and black olive essence.
Ever the sucker for black cod, I ordered the sablefish and was not disappointed. The sweet, oily flesh was highlighted by the mild citrus and anise flavours. The pea sprouts and olive drizzle provided a savoury counterpoint to the buttery fish, and the Hester Creek rosé provide a lift that reminded me that summer was on its way.
Another advantage of sitting at a table with fellow food loonies, was the swapping of samples from one another's plates. Rhonda May's sea bream was delicate and fresh, while Paul Kamon's sardine dish was confident and packed with flavour. It seemed these two ordered food that reflected their personalities—wait, what does ordering a fatty fish say about me? I enjoyed the complexity of my sablefish choice, but after sampling a number of the offerings, I'd have to say I would order the baked sardines on my next visit.
So, did I feel compelled to write this glowing report because they comped me the meal? Well, kind of to be very honest, but you know what? It was good and they deserve the praise. The set menu is terrific value, the Ocean Wise fish offerings were delightful and the service was warm and friendly.
I will offer one criticism to keep me honest though. Sadly typical of many restaurants in this city, the website for Provence Marinaside (and its sister restaurant Provence on West 10th) is rather unfortunate—frankly it's unbearable and needs a complete makeover. (I know someone they can talk to when they're ready to make their online marketing match their cuisine.)
As the evening wound down and I prepared to leave, our effervescent host Nancy giggled as she reminded me about the long forgotten paper fish taped to my back. On it was a 20% off coupon good at Provence Marinaside—now that's an April Fools' joke even my jaded food writer friend would approve of—regardless of who paid the bill!
The Poisson d'Avril celebration continues throughout the entire month of April, featuring a choice of appetizer, entrée and dessert for $45 per person. While you're there, enter the contest to win a cooking class for two with Chefs Alessandra and Jen-Francis Quaglia in your own home!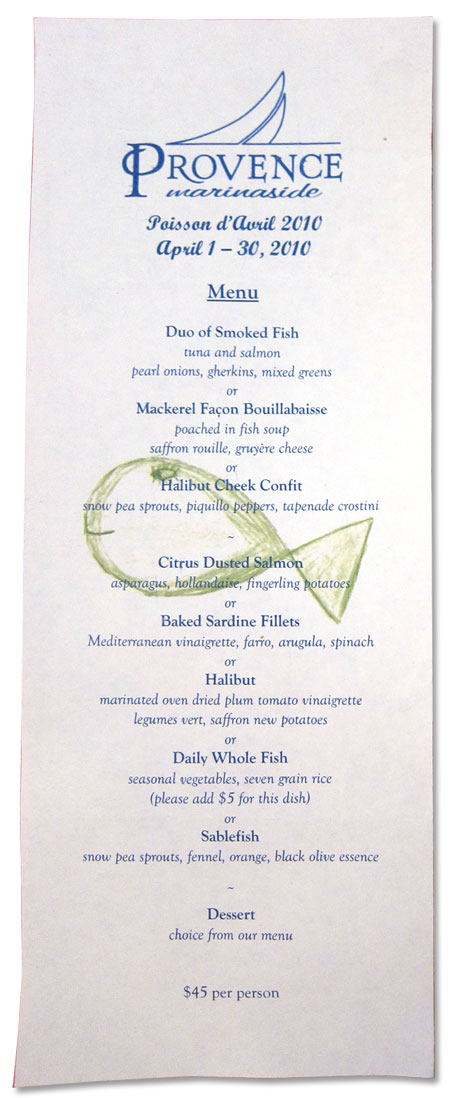 Provence Marinaside is located at 1177 Marinaside Crescent (just around the corner from Urban Fare), Vancouver, BC; 604-681-4144 www.provencevancouver.com/marinaside
Reservations