West Coast Chocolate Festival
Posted by Miles Harrison on Saturday, October 30th, 2010
Tags for this Article: BC Chefs, Callebaut, chocolate, Chocolate Arts, festival, Greg Hook, Roadhouse, Rubens, tea, Thierry, vodka, West Coast Chocolate Festival
Chocolate is one of the few foods we as humans will plan an entire festival around. It knows no boundaries. Despite its tiny geographical crop footprint, the cocao bean has penetrated every culture with its uniquely seductive panache. One is never too old nor too young to crack off a corner of a fresh bar, inhale it's personality and let it magically dance on their tongue. And chocolate goes with everything. It's poured on insects and stuffed in dill pickles (nod to Lucille Ball), paired with booze, bacon, yoga and meditation. We make art, movies and literature about it. We even build things with chocolate.
Panache was the grand gala opening of the West Coast Chocolate Festival held recently at the downtown Renaissance. This little-festival-that-could is riding the crest of a wave of chocolate popularity which I can only compare to the similar coffee tidal wave of the past few decades.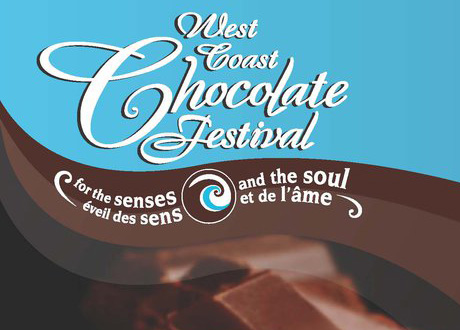 Now in its 8th year, this festival has enjoyed solid incremental increases in attendance within the borders of the Tri-city area from which it was conceived. This year they've added another layer to the box and "got seriously downtown" with 29 days of events and tastings. This years' opening was presented in the Renaissance's Vista 360 Room which offered a seemingly infinite tasting loop that would defeat even the most ardent chocaholic.
Yet the festival isn't a hollow chocolate festival. It's mission is to empower youth by creating mentored work experiences through chocolate inspired events. Through disciplines like marketing, event production, graphic design, culinary arts, project management, public speaking & presentations, they create unique work experiences for youth. They also endeavor to showcase emerging talent – performers and artists. Its like chocolate caramel karma!
There was no shortage in willing participants nor volunteers. Chocolate itself will easily trance people into doing it for free. Passion and one-upmanship are ingrained as chocolatiers pull out all the stops to present chocolate in sometimes outlandish and terrifying ways.
We were greeted at the top of the stairs by none other than Marcus Von Albrecht, director and past president of BC Chefs Association. As he hands me a cold flute of Prosecco he is visibly relieved as he confesses it was in the air from Bisol House in Italy a mere 4 hours ago.
This brings up the quandry of decadence. You see there is really no way around enjoying chocolate in this part of the world without shipping it great distances. Chocolate is usually the most frequent violation and first casualty in most peoples strict 100 mile diet plans. Most people are willing to justify this by buying ethically. That is, ensuring that the labour used was compensated fairly. Marcus' Von Albrecht and Associates also balances his imports with his newly introduced, handcrafted in BC, distilled 4 times, premium corn and rye vodka made with glacier water. Look for it under the name "X4" (Times Four).
Today's local chocolatiers are purchasing as close to the raw product as possible and then redefining it creatively, in the finishing processes. Whether that is having a local artist wistfuly hand-paint pieces, or enhancing it with unique west coast ingredients, this critical value-added final stage has to happen locally. Finished chocolate at this level of craft just does not travel very well and the freshness of the product here was indicative of that.
ChocolateArts is also a major proponent of this philosophy. Often from single sourced raw chocolate, they offered their daily-created small batch artisanal chocolates enhanced with west coast taste personalities such as wild blackberries, raspberries, cranberries, blueberries, hazelnuts and pears.  All ingredients are pure, and the entire Chocolate Arts line is made in-house, including the flavoured alcohols.
Greg Hook of Chocolate Arts had teamed with Swiss chocolate mega-supplier Barry Callebaut. Greg explained to me the tangled history of the Callebaut chocolatier family as they sold the family business to a large corporation in 1980 while Bernard pursued the traditional family craftsman side of the business under his own name in Calgary of all places.
Cin Cin pastry chef Thierry Busset was featuring a taste of what's to come when he breaks away to open his street front atelier Thierry, this Fall on Dunsmuir between Thurlow and Burrard. He whipped up his signature macaroons. They are deceivingly light and oh, so delicious, despite the obvious resemblance to mini-burgers.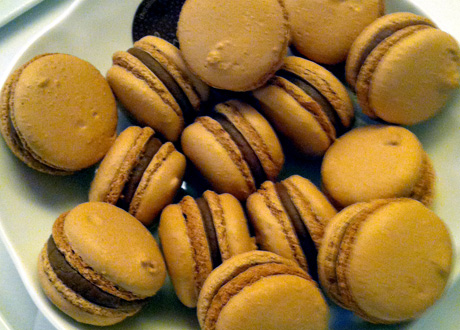 The killer app of chocolate, for me was Rubens' chocolate "Shotz". They were these inverted cones of Belgian chocolate with a dusted colour finish corresponding to it's precious contents — a complete shot of either Scotch, Lemoncello, Cognac, Grand Marnier, Champagne, Sambuca, B-52 and few others.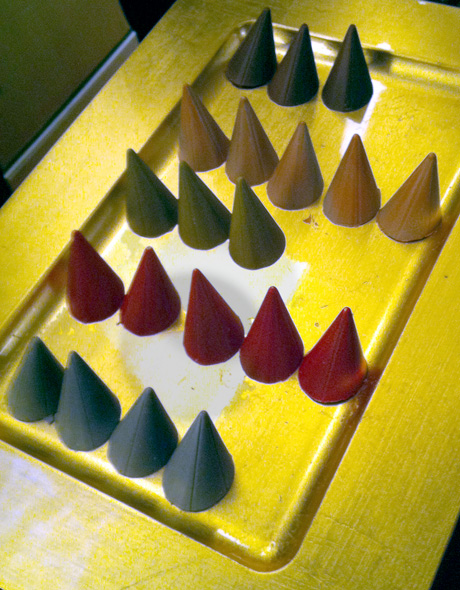 It was rich. It was decadent. It led to my first ever real double-dipped chocolate hangover.
Although there were many other chocolate tastes, full marks to the organizers who helped pace the tasting with well placed tables of savoury. A few notable chocolate accoutrements include Tea Desire who blew me away with their pairings and Blooming Teas.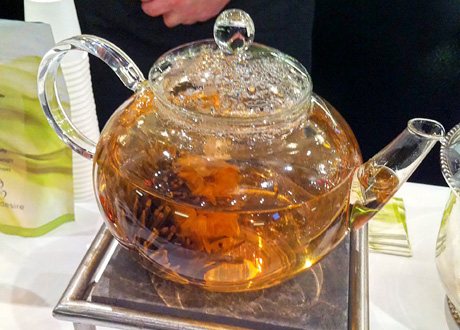 Another surprise was the presence of South Surrey's (Whiterock, really) Roadhouse Bake Shoppe. I've known this place as one of the best of the local "Diner, Drive-Ins and Dives" but had never been in their bake shop. A nice crusty bread with triple-whipped blue cheese and fig jam from them was most welcome at that point and was outstanding!
There are a host of other deserving desserters whom I will save for next year's festival review, partly because I can't possibly fit them all in, but mostly because I really hope to be invited back. Time is running out for this year's as well… Last day is November 9th so checkem out if you aren't too sick of chocolate after Halloween.