Celadon – Passion and Kimchi
Posted by Andrea Busse on Thursday, November 25th, 2010
Tags for this Article: asian, burger, Celadon, food, Huh, Kimchi, Korean, restaurant, review, soju, uni, Whistler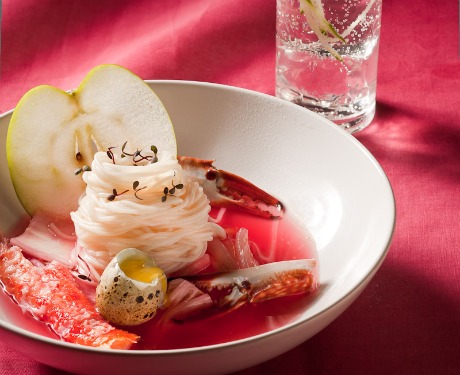 We were in Whistler this summer, and happened upon Celadon Fine Korean Cuisine purely by accident. We were impressed by the food, but didn't know the story behind it. Plus, we only got to try a few dishes – we wanted to try more!
So when we were invited to go to the Celadon Korean cooking event for their re-opening recently, we were excited to learn more. On a cold and windy Vancouver evening, we headed off to Barbara Jo Books to Cooks for a cooking demonstration and to meet the owners of Celadon—Maggie and Sonny Huh.
There is nothing chain-like or standard about this restaurant. You could sense the excitement for the food in every step of the preparation, and I love that it is a brother and sister team. Maggie and Sonny are passionate about the ingredients, the process, the product, and their heritage.
Celadon serves tasty Korean food based in the traditional, but they have taken it a step further so that it appeals to both the super adventurous and those who would like to stay a little closer to home. At one point, Sonny said, "just like Italian food is more than spaghetti, Korean food is much more than BBQ."
But there are no gimmicks with Celadon's food—it is delicious Korean fare with a modern twist and always made using high quality local ingredients. In a time where we are so saturated with Japanese and Chinese food in Vancouver, sometimes my palate often longs for something different. I think we've found it here.
Our tasting menu started with a soju cocktail made with cucumber and pomegranate and then we were treated to barage of courses:
Homemade kimchi (using hand-selected cabbage and aged up to three years!)
Jalapeños tossed in Chef Huh's signature chili vinaigrette dressing
Pa jun (pajeon) – spring onions, kimchi, and seafood crepe. This was served with an amazing sauce made with soy, garlic, sesame oil, chili powder and yuzu (Japanese citrus sauce).
Angel-hair noodles in cold kimchi soup on a bed of marinated vegetables topped with julienned green apple and king crab.
Chef Huh's gourmet Korean kimchi burger—Pemberton organic beef marinated in homemade bulgogi sauce (for a week!), served with avocado, emental cheese, tomato, lettuce, and finished with a ciabatta bun.
Celadon's signature Bibimbap seafood salad complete with uni, sockeye salmon sashimi, Korean barley rice, and a chili vinagrette dressing. Served with a side of made-from-scratch miso soup.
The meal was accompanied by delicious tea provided by Pedro Villalon of Dao Teas and the wines were provided by Cassandra Anderton from Black Coud Wine.
We had front row seats to watch Sonny calmly working in the kitchen and giving his sous chef instructions. Even while prepping several dishes at the same time (and wielding his menacing demascus rolled steel knife), he maintained an air of calm, and it was a treat to watch him take such care with his ingredients and be so meticulous when assembling each dish.
His sister, Maggie, was very knowlegable about the providence of the food, how the dishes were conceived, and how they were prepared. For someone who says she's not a chef and doesn't spend much time in the kitchen, she sure knew what she was talking about.
The quality of the ingredients was extraordinary—there was no cutting corners. We had king crab, uni, organic beef, the best quality Korean barley rice… The kimchi was all made by them—heck, Sonny travels 5 hours just to pick out the cabbage!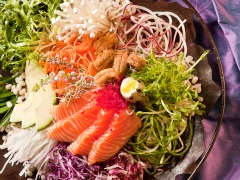 It's hard to say what was my favourite. I know everyone was loving the kimchi burger—and I'm sure someone else will write about that—but I loved the Bibimbap salad. The heartiness of the barley rice, the crisp fresh vegetables and all of it topped with high quality seafood. That is something I would keep going back for.
We were so lucky to have the chance to have a preview of some of Celadon's 'classic modern' dishes. I can't wait for my next trip to Whistler so I can see the restaurant in full swing.
Next time we go, I'm ordering EVERYTHING on the menu.