Mighty Caesar
Posted by Degan Walters on Sunday, July 17th, 2011
Tags for this Article: bourbon, caesar, celery, clamato, cocktail, spicy, vodka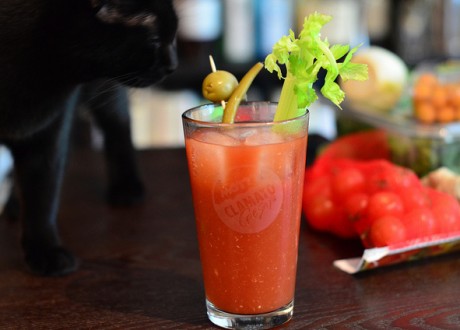 When I asked Foodist followers on Twitter how they liked their caesars, the answers ranged from "extra olives" to "extra black" but the overwhelming response was "spiceaaaaaaayyyy". It seems that everyone has an opinion. I dream of the day that I have a balcony big enough to make a DIY caesar station with hot sauces and condiments but until then it's going to be one-off experiments.
Normally I do horseradish and the works with a spicy bean or asparagus or whatever I have in the fridge but unsurprisingly, augmenting a few key ingredients really makes a difference. Fresh horseradish (available at T&T or Granville Island) grated into the drink is exquisite and if you plan ahead, a little black-pepper infused vodka in place of the regular stuff is amazing.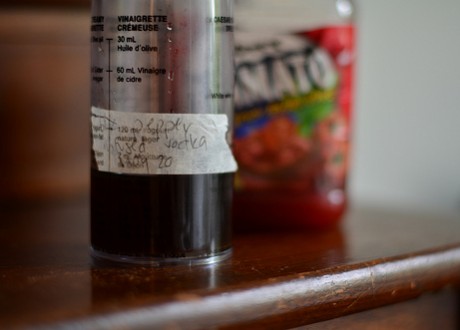 To make a black pepper infusion:
1. Coarsely crush 1 tsp black peppercorns with a mortar and pestle and to a cup of vodka.
2. Place into an airtight container for a couple of days, shaking periodically.
3. After 2 or 3 days, strain through a sieve or cheesecloth. This recipe scales up for sure but I like to make small batches that I know I'll use.
If you're planning even farther ahead, make (or I guess you could buy) some celery bitters. They lend a grassy, vegetal taste to the cocktail that goes nicely with the heat.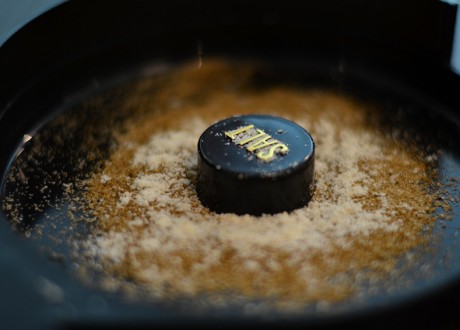 But when we were encouraged to try and find our own Caesar recipe, I wanted to do something different. I tried Korean frog liquor with wasabi paste, spicy beans, pickled asparagus, beef broth, muddled tomatillos and all kinds of variations on the theme and I discovered that the Caesar might be "Canada's Cocktail" simply because it's so agreeable. Mix some ice, Clamato, alcohol, something salty, something spicy and something pickled in a glass and you're good. Salt the rim if you want to be fancy.
All the same there were some clear favorites:
La Mexicana
1. Rim the glass with celery salt
2. Fill the glass with ice and add:
1 oz (or more) tequila
4 dashes chipotle hot sauce
4 dashes of Worcestershire sauce
Lime wedge
salt and pepper
3. Garnish with pickled jalapeño and whatever else you like to munch on.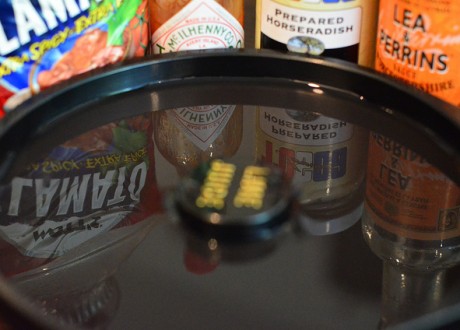 Someone mentioned that they liked a stick of beef jerky in their caesar and it seems to be that that needed to go with a more "round" liquor so after some messing around I added some bourbon and was very pleasantly surprised with the result. I think it may just be my new favorite thing.
Meaty Caesar
1. Rim the glass with celery salt mixed with Edible B.C.'s Bacon Salt
2. Fill the glass with ice and add:
1 oz (or more) bourbon
1/2 tsp of horseradish
1 tsp of beef broth
4 dashes of Worcestershire sauce
salt and pepper
3. Garnish with pepperoni stick, spicy bean and a yellow heirloom cherry tomato.
So good!
How do you like your Caesar?