Taste of the PNE – Fair Fare
Posted by Miles Harrison on Wednesday, August 29th, 2012
Tags for this Article: bacon, Deep Fried, Fair, Junkfood, PNE
If I live to tomorrow despite a fatal and meteoric spike to my HDL and cholesterol levels you can thank me. I took the heartless hit for the Foodists team to bring you this years Fair Food landscape from the Pacific National Exhibition.
Why not? I'm a bit of an exhibitionist.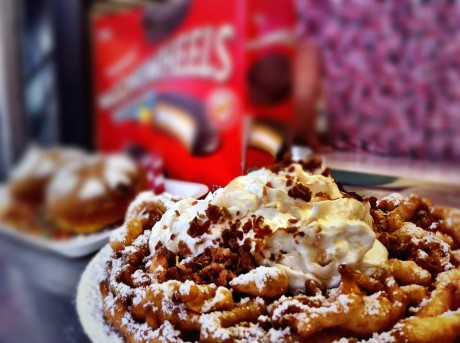 To set the tone I rode in on public transit. It gave me time to compose some initial thoughts and write this intro while standing up. At about 10 mins away, I'm thinking when I arrive I will be greeted by a conveyer belt with basket after basket of traditional fatty fair food gently trundling its contents into a bubbling deep fryer. There it will sit I imagine for an unhealthy length of time, sapping out any real flavour until it is dumped out onto a floppy styrofoam disk that will virtually collapse under the weight of the oil and I will be forced to parcelize these globs with aid of a bendy fork made of a substance widely known as "plastic" but what most of us are pretty sure has the molecular structure of taffy.
I'll let you know how it goes…
Getting off the bus I feel the annual rush of excitement from ingrained memories of years of roller coaster rides and that terrorizing top corner hairpin on the Mad Mouse. Now suddenly I can't wait to indulge. Bring it on PNE! I'll wallow in your artery clogging corridors of depravity.
It's actually pretty frightening how much power a few brightly coloured umbrellas, flags, carny-folk and the words PLAYLAND has over me. This place — this unabashedly obscene cacophony of visual and literal noise, may just dilate my arteries enough for me to take the hit today.
The reality is, I'm not here to partake in the rides or the games. Let's face it, there is really only one reason I'm here: the promise of bacon.
It was a short wait. In the Marketplace building 2 sisters from East Van have set up to sell their passion for peanut butter.
Monkey Butter, as it has come to be known, was started in their kitchen. Kathleen and Gillian Gook geek out on tricking out traditional Peanut Butter with surprising flavours.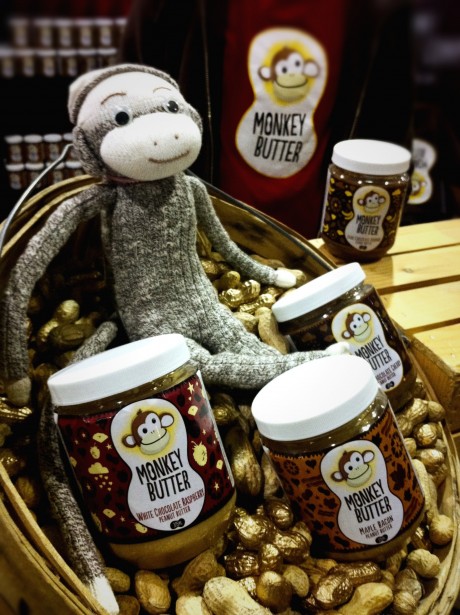 The Bacon Maple flavour immediately sirened me and I nearly wrestled fellow foodist Nathan for the sample spoon. I emerged victorious while he settled on the White Pretzel Chocolate version. Also available were White Chocolate Raspberry, Dark Chocolate Bananas, Salted Caramel and Dark Chocolate Cherry.
Now content and bacon-fixed we moved on…
Closer to the Colosseum was the booth of long time fair food family, the Poudriers. Perry Poudrier's path to the PNE was paved through after being head chef at Children's Hospital. Perry and wife Suzanne operate the Funnel Cakes booth and now spend their spare time thinking up diabolical things to deep fry. PNE time for them pays for that privilege. This year's fare had us trying a deep fried Wagon Wheel and a Maple Bacon Funnel Cake, both laced with whip cream. These were both as good (or bad) as you'd expect but the Wagon Wheel trumped the bacon here for both Nathan and myself. It was lighter than expected. They do try to preserve textures as well as tastes here in their experimentation. Each concoction goes through a 3 step family approval process.
Pacing us around in front of the prize home, we encountered the largest chocolate fountain this side of the other chocolate fountain next to it. One was dark, the other milk chocolate. Powers Chocolate is a healthier reprieve for deepfry sogged fair goers. Fresh strawberries, bananas, pineapple on a stick are inserted through the flowing velvety chocolate curtain. Simple and delicious.
That fruit abated the guilt enough for us to press on quickly in search of more… Hey! Gelato!
68 flavours of the famous 218 flavour total of La Casa Gelato have been featured at the PNE for over 20 years.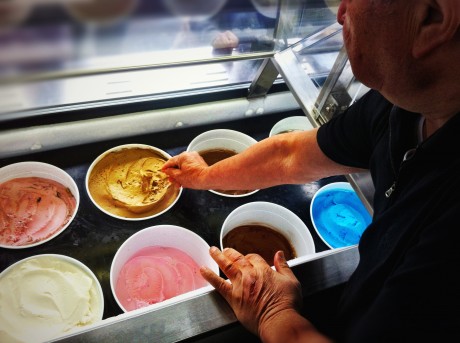 Vince Misceo started with 16 flavours but lately he's been getting pretty wacky. He's been messing with Seaweed, Kimchi, Gargonzola & Blue Cheese, Chanterelle and Porcini Mushroom flavours. We went straight for the Bacon Maple (again!). I also tried the "King of Asian Fruits", the Durian gelato. Durian has quite a unique taste and I thought it was strangely good. Others near me cried out that it tasted of onions and BO so maybe you lightweights should just stick with the vanilla.
One of the newer food vendors to join the PNE (after waiting on a lengthy list and enduring an arbitrary selection process as I understand) is Granny's Foods. These guys are a mainstay in the Texas fair circuit and a big part of their popularity is due to the deep fry food craze. They are known for their regular cheesecake but at fair time why wouldn't you deep fry it too?
Their main draw this year is deep fried Kool-Aid. No liquid center as you may expect just the distinct Kool-Aid colour and flavour. Smacks of sugary breakfast cereal.

At this point Nathan and I toyed with the notion of giving it all back atop the Paratrooper but we clenched up and headed back to work. A few other interesting items of note this year include the classic Candy Apple wrapped up in the equally classic Cotton Candy. But for me the highlight was the BBQ area. This year I tried the Smokin' Babes. Daughter of repeat Canadian National BBQ Champions, Smoke and Bones (who's booth is right beside hers). You won't regret her ribs and have a side of baked beans which she finishes with grilled peaches.
Fair food is what it is: Indulgence. So indulge and walk it off! See you next year PNE and thanks for the bacon.