The Endangered Peasant Meal
Posted by Brett Macfarlane on Wednesday, August 29th, 2012
Tags for this Article: cafe, dinner, France, french, southern france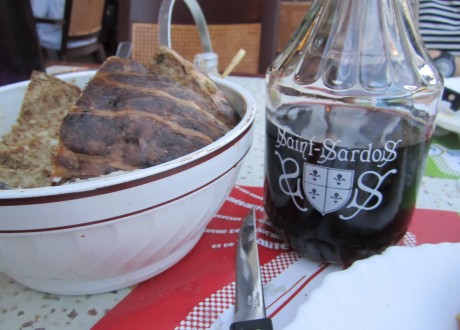 In today's internationalized and air freighted culinary world can a cuisine go extinct?
A question raised by dinner at a small rural café in a tiny drive through town in an unremarkable region of southern France frequented by hearty locals and the odd Airbus expat.
After a day hosted in the pool and bottomless rose tap of our friend Tom, a wine merchant, he insistently badgered us to eat at Chez Anny for a simple "peasant meal."
Dutifully and hungrily we followed his counsel.  Rarely are such recommendations in the countryside a disappointment.
In our time living and visiting France, the smaller the town the more tightly they hold onto century old traditions.
However, as anyone having read first hand accounts from the past couple centuries in France will note it is a country, who while continuing as the mother and queen of gastronomy, forever is vexed by the self diagnosed decay of its culinary traditions.
I experienced this tension profoundly last summer in Aubignan – a short drive south of Vacqueras & Gigondas at the foothills of Mount Ventoux.  The traditional town soupe au pistou (a minestrone with pesto) was now served out of the back of a service truck rather than the pots of townspeople pitching in together.
The town still came together as tradition dictates to celebrate summer, test the latest vintage and gossip, but the food had shifted a degree removed from their land arriving in cans, pre-heated and mixed atop four wheels to be served in plastic bowls with a wedge of cheese from an industrialized factory in Normandy.
Apart from Paris, France is a country of farmers and food artisans – hearty workers with hearty appetites.  Chez Anny is for them.
She is found in a typical stone building with simple pre-Haussmann construction on the village Cox's central Rue Principale across from the town hall.
Not having reservations we were seated street side under the open air to our immense satisfaction, the locals knowing to book under the awning in case of an evening summer storm.
Within minutes of seating, a porcelain caldron of noodle soup was hefted onto our table.  Followed by the question of white, red or rosé wine.  No menu, no wine list; no doubt we were in Anny's hands.
My wife ordered rosé and I chose red for variety.  Swiftly, out came two full 750ml swing top bottles, tasting as only a rustic village wine from that village can.
A self-ladled bowl of soup later, three for me actually, though there was enough for 10, the chamber of soup was replaced unprompted by smaller yet still formidable chalice of country pâté with a sturdy wood handled utilitarian knife jutting out.
We each sawed off a bread plate sized wedge and attacked the mountain of bread.  A mustard pot arrived to cut the savory full flavored pâté, which given its course texture was more truthfully a terrine.
Only after triple checking we'd had enough did the chalice depart.  In its place landed a robust salad of one-third lettuce, one-third tomatoes and the remaining third fresh sautéed lardons sitting aside three other styles of cured ham.  All coated in a simple, zingy vinaigrette.
It was an immense feast.  One fit for a glutton but given the careful attention and pleasure everyone else in the restaurant approached each spoon/hand/fork full we were in fact amongst gastronomes.
And so, after all that it was time for Anny to ask what we'd like for dinner.
We requested the poulet a la moutarde (chicken in mustard sauce with rice) and local specialty the Toulouse sausage with a large dome of frites.
The food was astounding in quantity and taste.  The skeptic in me arousing on the authenticity, quality and origins of the meal was silenced when seeing sacs of potatoes being cut manually to size while every other dish was made fresh upon order.
Upon consuming a week's worth of calories in the main course alone a modest cheese wedge arrived with relief to indicate the cavalcade of courses was concluding.
On verge of conceding defeat, I accepted the lemon meringue for dessert while my wife took the crème brûlée that was as good as any we've had in various restaurants of various numbers of stars.  In fact, better than most.
Two espressos appeared to aid digestion and with it under mystery and suspense the bill, as no discussion or indication of cost was of yet initiated.
€14 each.
That's about $17.25 CDN/USD at today's rate.  All tax, tip, food, wine, coffee and a smile.
For the local French farm worker about half would be subsidized by the national food voucher program available to most French citizens of near all income levels.
The most honest meal for and from the most honest people imaginable.
Foods of the land physically and spiritually.
Served with humility, humanity and understated style rarely achieved at the finest restaurants.
A modest restaurant never designed with a "target" audience in mind.  Simply a way of being for how it has always been.
It can't last.
It is impossible not to envision the great risk of extinction such a meal is threatened by.
Even simply due to the fact of mechanized of farm labour few people work physically exhaustive enough to justify such a meal regularly.
Where every town once had a restaurant like this, fewer do.
Subsequent generations of families no longer want to work hard enough to maintain the standard, as has befallen many such restaurants.
Culturally, economically, and spiritually it is not a meal that can travel such as haut-gastronomy or street food of any culture.  It is too close to the land, its people.
Yet, Chez Anny does exist.
When I worked in Paris over time I learned of similar humble one off restaurants that without fanfare hosted bankers, builders, architects, street cleaners and anyone else to a humble and honest meal.
Endangered, yet thankfully far from extinct.
We hear Anny has a son working in a stuffy kitchen in a distant urban centre, if we're lucky he's unhappy and will be drawn to the elegant life of a peasant chef.