The Chiveto – A Peerless Sandwich
Posted by Brett Macfarlane on Wednesday, December 5th, 2012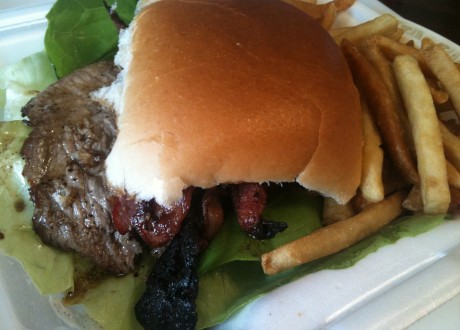 I've had a few great and memorable sandwiches in life, as well many purely functional ones and far too many feeble ones imprisoned tightly together aboard industrial plastic serving trays.
However, I have only tasted one sandwich that I would fight for, and even dare I say, go to war for.
While memory plays tricks on us, making past meals grander than reality, this one is jammed, locked, and eternally stowed in my mental taste library within the vault of distinguished tastes accessed only by the most elite taste buds serving my palate.
Dear reader, you probably dismiss this sandwich's greatness, as did I the first time. Having just disembarked from an 22 hour air journey, taste buds pummeled by the military grade umami flavours infesting the sort of cuisine only found at high altitudes by those turning to the left when embarking a trans-continental flight.
When landing in Uruguay there was nothing to indicate what was about to happen as I was briskly ferried by heavy transport to a production office housed in a wooden colonial building amidst a sleepy residential neighbourhood
It was the end of winter, and soon I learned the whiff of smoke in the air wasn't heating, for Uruguayans are practical and just wear a thicker home knit sweater when temperatures drop.
Rather, before lifting their hammers to start the work day humble builders alight a mound of wood in a 3×1 meter open air cast iron grill such that by lunchtime hot smoking charcoal is ready to receive slabs of top grade beef.  I would learn to love that beef, and immediately loved how well the workers ate, better than the highest of executives in the tallest of buildings.
A production assistant, who by the laws of the film-making jungle cannot rest until tasked with something to over-perform given they are over qualified and over eager, asked if I'd like something to eat.   Not being one to make a fuss I just asked for something simple, whatever is enjoyed locally.    I thus heard a word that unknowingly would become my new god – "chivito" – but swollen with ignorance thought nothing of it.
After some work calls back to my London and Paris HQ's, then a briefing on how the impending weather would impact our week of filming, a pale bland plastic Styrofoam clamshell dropped its sweaty self before me wheezing disappointment.
This low deepened as opening the clamshell released a cloud of stagnant steam from the packet time forgotten.  With dread and my peripheral vision full of eager Montevideo-ians awaiting my judgment of their sandwich, their culture, and very existence of being I grasp the soft roll who dutifully carried a light cream sauce while collecting juice dripping with dignified intensity off the hot churrasco like steak and through the simple fresh tomato and lettuce dressing.
The full force of my attention was violently grabbed then, there, and forever by this sandwich. The softness and structural integrity of the bun balanced with the heft and heartiness of fresh charcoal grilled meat honed by intensifying dressing was despite the humble carrier an elite execution in the field of international sandwich excellence.
Now, when filming in far flung corners one must always be wary of a too well meaning host misrepresenting a nation by hand picking a few narrow aspects and suppliers to frame your view of the place. Especially an emerging country excited to host their first Hollywood A-lister production in a burgeoning film industry eager to expand commercial work.
Though great, this sandwich was not yet to be trusted.  My week was committed to the honest study of the chivito.  My hosts were challenged and committed with pleasure to sourcing specimens from the widest range possible of chivito makers.
It quickly became clear the tastiness wasn't a story of artisanal provenance in a 'local-vore' world of cutting edge ancient biodynamic methodologies as found on the menus of top tables around the world; nor the by-product of a food truck revolution, food rave movements or any sort of hyper specialized pop-up craze.
No, their methodology firstly requires farmers outside the city to each day allow their cattle to wander out into fields of grass that grow as grass does, on its own, naturally, without any intervention. The cattle eat this meal daily, everyday, all the while until they are of an age to be butchered by the hands of the farmer and aged a bit to then be sent to little restaurants around Montevideo who grill and tuck the meat into a bun typical of the bakeries invariably on their block.  Like I said, no 100 mile mumbo jumbo, organic this, artisanal that, it is only a chiveto after all.
Over the week I had many chivetos from many makers in many neighbourhoods, all with much the same effect as the first. On our final day after a marathon indoor technical shoot amidst a cavernous green screen I was presented with a departing chiveto by the local executive producer. I then proceeded to thank the crew for their work, professionalism, and hospitality. Words most rightfully thought directed at the film but I knew to be equally of the sandwich.
Before climbing back on a plane and into umami land, I snuck off on my own, free of escort to a sandwich bar in the colonial style center of town – a place notably only for its ability to go unnoticed.
I asked a kind man half my age who looked twice my age due to a life of honest labour for a final chiveto. A pictorial menu saved my linguistic inadequacy, the sort of menu a literate gastronome steers well clear of. I pointed and was duly served yet another exceptional sandwich, thus reaffirming yet again my findings.
A great sandwich or any other meal does not come once. For once can only be relied on as a good memory. The mind is powerful enough to over impose perception of excellence on anything that subsequent trials prove underwhelming, failing to live up to expectations.
Only with repeated trial can one be sure of excellence in taste.
I may have lost count of the number of chivetos trialed but you can count on it being a sandwich without equals.