Video: Eating Brackendale – Breakfast & Eagles
Posted by Mark Busse on Saturday, January 25th, 2014
Tags for this Article: Andrea Busse, bc, Brackendale, eagles, Fergie's Cafe, mark busse, Nathan Garfinkel, salmon, Squamish, Sunwolf, video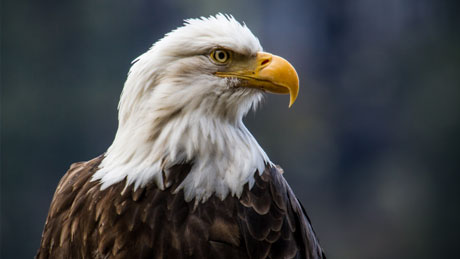 We'd heard chatter about a cafe up near Squamish called Fergie's Cafe that people would literally drive up from Vancouver or down from Whistler for. We had to try it for ourselves, so one recent foggy morning we grabbed the camera and jumped into Nathan's car and headed up the Sea To Sky Highway.
Below is a summary of our retreat, but here is a video of the experience:
Fergie's Cafe is part of Sunwolf resort in Brackendale, who offer "Eagle Floats" during December and January where guests gently float down the river in a raft, seeing hundreds of majestic eagles up close as they gather to feast on spawning salmon.
A cluster of adorable cabins and lodges along the river, Sunwolf has been popular with fishermen for decades, but only under the recent ownership and management of Jess and Jake Freese has the operation become a destination of choice for those wanting to get away and enjoy the quiet of BC's nature. I knew as soon as we drove up I was going to like it here.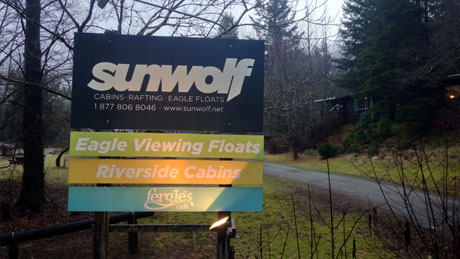 Jess and Jake are originally from the UK, but relocated to Whistler a number of years ago and recently to Brackendale to pursue their dream of making a living while enjoying their many outdoor pursuits. I can totally relate to their love of nature and the beautiful BC backcountry, but I admit that even after living in Vancouver for over 30 years, I've always driving by that big eagle sign at the entrance to Brackendale and never really checked it out.
Considering Sunwolf is only about 45 minutes from downtown Vancouver, it's amazing how remote it feels. The rustic setting reminds me of vacations far away from the distractions of work and life.
The cabins are quaint and comfortable, and the sound of the rushing river nearby provides the kind of white noise that results in the deepest, most refreshing sleep. And a dunk in the hot tub before bed doesn't hurt either. ;-)
In the morning, we awoke to the smell of pork being smoked, later to be used in the chilli served at lunch by the fire. Can you imagine a better way to wake up? I can't. Nathan and I ventured out early to the river, shrouded in fog, with eagles swooping low as they headed to their breakfast of salmon.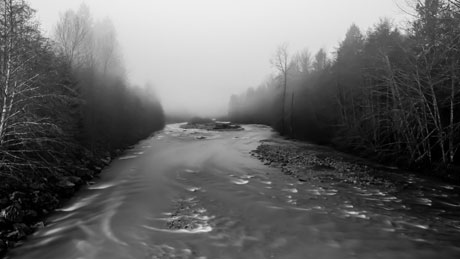 Speaking of breakfast, ours was amazing. Our food nerd friends weren't kidding. We enjoyed generous portions of duck confit, beef short ribs and pulled pork Eggs Benedict, each served with fruit salad and duck fat potatoes. Perhaps it was the thought of the thousands of salmon dying in the river nearby, but ironically none of us ordered smoked salmon Eggs Benny!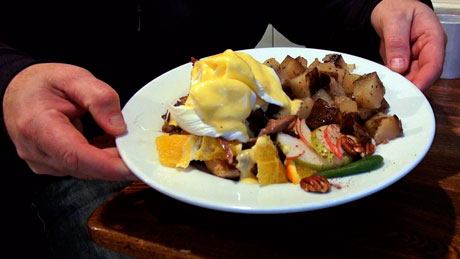 Chef Brad created amazing culinary wonders in his cozy kitchen, while chatting with guests in a friendly manner.

Jess and baby Flynn joined us for breakfast, telling us the interesting story of how they ended up trading in an exciting life in London for one of back country skiing, white water rafting, and now owning and managing Sunwolf in Brackendale.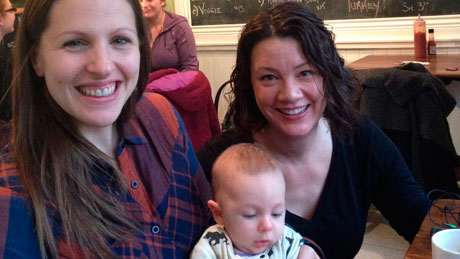 After breakfast we donned rain slicks, rubber boots, and life jackets, and in short order found ourselves wading into the river and jumping into the raft, excited for the adventure ahead.
The river was teeming with salmon, although there seemed to be as many dead salmon and skeletons as there were still spawning fish.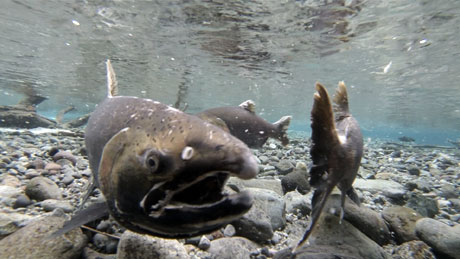 The fog turned to cold drizzle, but we were cozy and dry as Jake poured everyone hot chocolate, explaining that this was actually the best sort of day for observing these huge predator birds. He was right—there were eagles everywhere we looked.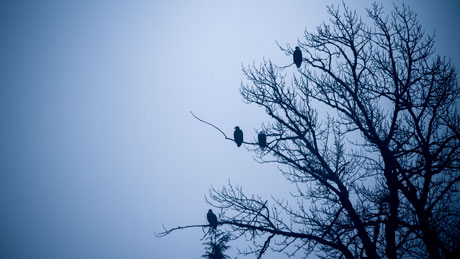 Jake, a volunteer and supporter of the local Eagle Watch program, shared interesting facts about bald eagles, from their incredible growth as juveniles, the long distances they migrate each season, need to eat 10% of their body weight daily, how they feed near the river, but sleep in trees a few hundred metres back where it's warmer, and the direct connection between eagles, salmon, and the ecosystem along the river.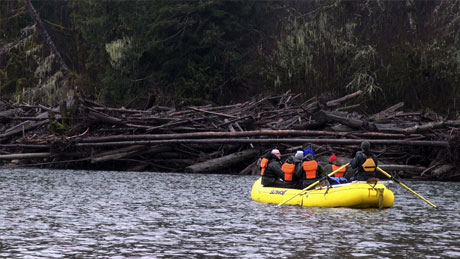 It felt like a privilege to be so close to these huge raptors as we slowly drifted downriver in silence.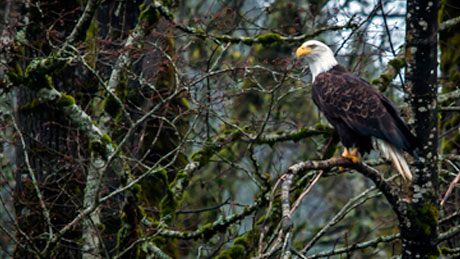 After 90 minutes on the water, we were warming up with hot drinks by the fire back at Sunwolf Lodge, followed by delicious homemade chilli (with Brad's pulled pork we smelled in the morning!) and freshly baked bread and cookies.
The whole experience felt magical, especially considering that we were back in the city by early afternoon. We're already planning to go back for another round in the summer when they offer whitewater rafting—and to try more things on the menu at Fergie's Cafe.
I hope our video and this story inspires you to check out Sunwolf and Fergie's Cafe for yourself, but for information, visit www.sunwolf.net