Vintage Food Revival
Posted by Ben Garfinkel on Friday, August 26th, 2011
Tags for this Article: 1960s, jello mould, meat pie, meat pie recipe, meatloaf, tortiere, wedding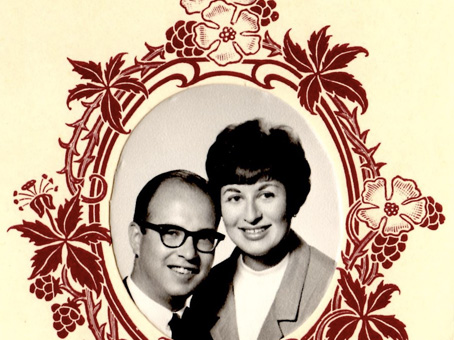 Last weekend my parents celebrated their 45th wedding anniversary. I suppose after 45 years you have your share of romantic dinners for two (and other stuff I don't want to know about), so in recent years they like to mark the occasion with family dinners.
We decided we'd make a meal using vintage recipes from the era. That's the 60s if you're bad at math.
Coincidentally, around the same time, my father-in-law was reminiscing about this meat pie his friend's mom used to make. Sounded enticing, and of course a passionately shared latent food memory combined with the nostalgia of an era long past made it even more so. Thus, these two circumstances combined and I decided to revive the glory of this meat pie in honour of my parents' anniversary. Actually, what got me, was when I received this scan of the original recipe. I felt like some kind of food archeologist, about to crack open a long-sealed tomb.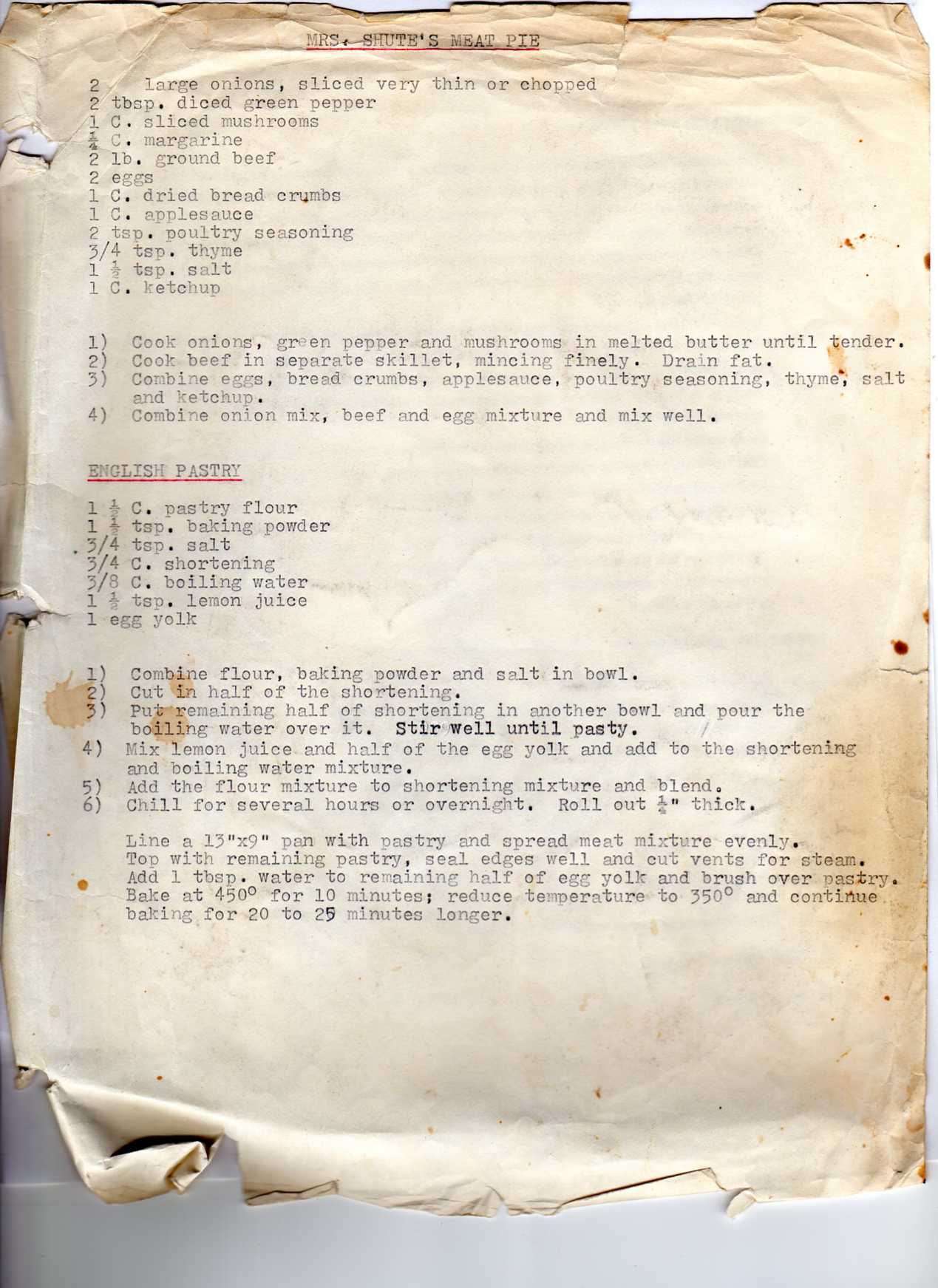 To go along with it, I would make a 2012 fresh version of that shitty, yet ubiquitous, mixture of frozen peas, carrots, corn  (which, I was recently shocked to discover still being served on a senior's meatloaf special at the Home Cafe in Hope, BC).
Plans changed when my sister uncovered the actual menu from my parent's 1966 wedding banquet:
Relish Bowl
Melon Balls Supreme on Grapefruit Basket au Kirsch
Filet of Dover Sole Amandine
Asparagus Hollandaise
Glazed Carrots
Anaa Potatoes
Avocado and Sardine Salad
Double Glacee au Marrons
Petites Fours
Coffee
The meat pie was still in, but we ditched the mixed veg idea in favour of the glazed carrots and asparagus with hollandaise to reflect a couple of the menu items, then added a pesto, sundried tomato and pine nut layered cheese 'ball'. devilled eggs, insane seven-layer jello mould and chocolate fondue.
I have to admit that while cooking the meat pie I felt a little out of place, since I typically do not cook with that much fat (butter and shortening) anymore, well, never did. What struck me about the recipe was the somewhat odd combinations like ketchup, apple sauce and poultry seasoning, and the overall method (cook meat and vegetables separately, then combine together with the sauce, etc.). Ultimately though, it worked, and as someone who very much appreciates a good meat pie, and especially tourtière, I can say I was impressed with the depth and balance of flavour of this one. You know, this sort of classic comfort food sometimes gets a bad rap these days, but everyone was diving in for seconds.
I do have one recommendation that I think would improve this recipe. If you chose to use the 13″x9″ pan it calls for, double the short crust component—I had some trouble getting the bottom and top of the pan covered completely with the crust as there simply wasn't enough. I think doubling it would actually leave you with too much crust, but what I also think I'll do next time is use the crust to make two round pies. Thus, the crust doubling would be justified and used efficiently, and the round form of the pie will be easier to serve and look more appealing on the plate.
The night was a hit, and an absolute caloric indulgence. We all reflected back on days past, food remembered and a our past loves, food and otherwise.
Personally, I find recipes with a history, and hence a story, far more compelling than those without. If you've got one, please share it with us.