Medina Café
Posted by Dave Shea on Saturday, January 3rd, 2009
Tags for this Article: Breakfast, brunch, cafe, coffee, Gastown, Medina Cafe, restaurant, review, vancouver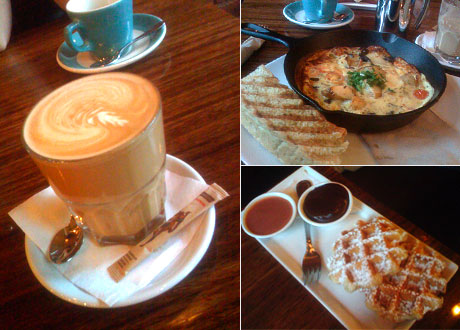 Fellow Foodist Lauren and I braved this morning's snow to hit up Medina Café the morning they opened back up post-holidays.
As Chambar's little sister, Medina shares owners and sits one door down on Beattie St., not far from the Stadium Skytrain station. They first opened a year ago as a narrowly-focused coffee and waffle morning stop, but some time in mid-2008 they expanded their menu to a much larger choice of breakfast and brunch items.
And what an expansion it was. Having been a handful of times, I can safely draw a line in the sand and say this is it; Medina is the best breakfast/brunch spot in Vancouver right now. The ingredients are as high-quality as the plates are inventive, with a distinct Mediterranean twist in some of the more lunch-worthy options. Each dish may have begun life as an old standard, but everything on the menu (PDF link) takes it two or three steps past ordinary to create a transcendent morning experience.
Take today's brunch. I ordered the omelette. That would be the omelette du matin mind you, stuffed full of oyster mushrooms, cherry tomatoes, fingerling potatoes, spinach, and gooey gruyere cheese. With a slab of grilled focaccia on the plate for good measure, perfectly crispy on the outside but fluffy in the center.
Or Lauren's two sugar-coated Belgian waffles with bowls of raspberry caramel and dark chocolate sauce for dipping. And the pair of accompanying savoury (and surprisingly lean) Merguez sausages topped with baba ganoush.
Or our soul-warming drinks after the cold walk in: green needle tea and a lavender-tinged latte. I'd be the first to complain about anything other than milk in my coffee, but, lavender? Oh, yes, please. They'll do raspberry and vanilla too, but stick with the lavender. Trust me.
Word has clearly gotten out, however. Getting a seat can take a bit of effort, the line of people waiting at the door tends to stack up. Just make sure to write your name down on the list on the wall at right of the door when you enter.
And don't miss the fricasse. Best breakfast ever.
Medina Café is located 556 Beatty Street, Vancouver, BC in Gastown; (604) 879-3114, www.medinacafe.com