Taking the Sting Out of Nettles and Fuss Out of Fiddleheads
Posted by Mark Busse on Saturday, May 23rd, 2009
Tags for this Article: fiddleheads, ostrich fern, seasonal ingredients, spring, stinging nettles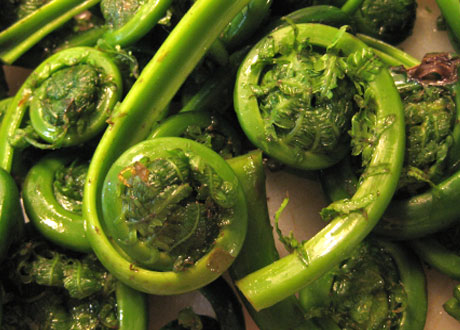 As a cook I love the green that makes its way back onto my plate with the arrival of spring. But aside from expected seasonal fare like asparagus and spinach, I like to use some more unusual ingredients like stinging nettles and fiddleheads—neither of which most of my dinner guests have tried before, which is always fun. But be warned, both of these ingredients take some care and getting used to.
For starters, I was always taught to stay away from things that hurt you. And stinging nettles are painful if you're not careful. The notion of eating stinging nettles is crazy talk for anyone who has brushed up against them on a walk in the woods. But actually, nettles are delicious and can be served in many forms, including steamed, dried, and as tea. It's actually considered a "wonder herb" used throughout history to treat ailments such as pain, allergies, rheumatism, diabetes, and others.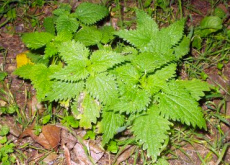 I grab a bunch of fresh stinging nettles at our local farmers market when they're available, but you could head off to the woods in spring and pick your own (only harvest the top four inches and for god's sake, use gloves!). As a side dish to a meal, nettles are wonderful. Simply wash, remove thicker stems, steam them, and then lightly sauté them in butter and a little salt and pepper. As long as they are wilted, the sting will be gone, but the fresh 'green' flavour won't be. You can serve them by themselves, toss them with mushrooms, add them to pastas, omelettes, pastries, quiche, pesto—I've even added them to risotto for an interesting twist on a classic. Here are some simple recipes for nettles you can try.
Another terrific green spring ingredient I enjoy are fiddleheads. And like our friend the nettle, you want to be aware of the correct way to prepare this unusual seasonal ingredient. Fiddleheads are merely immature ostrich ferns that haven't unwound yet. Commonly found growing near riverbanks, it almost seems cruel to pick these cute little plants as they huddle together, almost curled into a fetal position. But natives have been harvesting them for hundreds of years, so who am I to judge? Just be careful to pick the right ones as some ferns are poisonous—well, even fiddleheads can give you gut ache if you're not cautious.
That's right—be warned fine readers: as tempting as a quick sauté might seem, eating fiddleheads that are undercooked can have dire consequences. You'll want to trim stems and wash (as you would all greens basically) and then start by boiling them in lightly salted water for 10 minutes—15 if they aren't turning too soft already. You can also steam them for 20 minutes if you prefer, or finish them off with that quick sauté if you can't resist (I can't). A little olive oil, salt and pepper is all you really need to make these little green lovelies sing. I would describe fiddleheads as another fresh 'green' flavour, but more like asparagus or perhaps even artichokes to my pallet, and with more of a firm texture than I first expected.
And besides the entertainment of seeing the look on your friends' faces as you explain that they could get sick by eating your fiddleheads (which just sounds dirty anyway) if you didn't know what you were doing, what other ingredients can you serve that can spell '69' out on the plate? Fantastic!
What other unusual seasonal ingredients have you tried out? Do share with a comment below!