My meat and patisserie run
Posted by Ben Garfinkel on Monday, June 22nd, 2009
Tags for this Article: bacon, barbeque sauce, Bosa, capicollo, Casatorie, Cioffi's, Columbus Meats, dulce del leche, Gourmet Warehouse, Honeycup Mustard, italian, JNZ Deli, mil hoja, Moccia Meat Market, Oyama, Panaderia Latina Bakery, peri peri, Polonia Sausage, salumi, sausage, smoked meat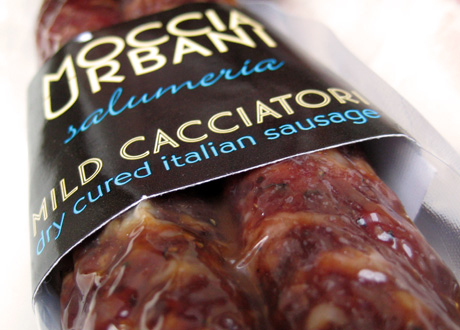 You ever have one of those Saturdays when a slot of time opens up and you can combine three or four things all at once? So it was this Saturday when I needed to go out and grab some sausages for Father's Day, my daughter was napping with her mom and I had a need to fulfill some longstanding meat and pastry cravings. The perfect storm!
Somewhat hungry, I figured a good first stop would be to check out what has been known by many as the best Latin bakery in town, Panaderia Latina Bakery on Joyce just north of the Skytrain station (4906 Joyce Street). I'd first heard about it several years ago as the place to go for empanadas as well as some very fine patisserie. I'd made one or two half-hearted attempts to find the place in the past, but a recent write up in the Georgia Straight had it on my mind and now I knew where I was going.
Located in a crappy strip mall in an area I've never had to travel trough in all the years I've lived in this city, it's incredibly easy to drive right by. Upon walking into the place it doesn't look like much either, but take a moment to get acclimatized. Then the wonders behind the glass start to beckon. It's filled with dulce de leche and vanilla patisserie cream laden delights. Yes, this stuff will kill you eventually, but each bite is like going to a sweet, flaky heaven. I took a mil hoja and another pastry I can't recall the name of (it was a roll-like shape filled with creme with one end dipped in their homemade dulce de leche). I was going to eat tthe pastry first, but instead took the meat, potato and olive-filled empanada out to eat whiel making my way to the next destination. It was a thick, dense pastry that reminded me a little of a calzone and did double duty holding in the savory filling. I have no photos of this or the dessert for reasons you can easily imagine.
Conveniently, I'd just finished my empanada when I pulled up to Moccia Meat Market. I'd only recently heard about this place via this post on the Rouxbe blog. Thanks Dawn! Moccia is a small, family-owned Italian meat shop located in the 22oo block of East Hastings just slightly west of Nanaimo, a possibly more Italian strip than even Commercial Drive.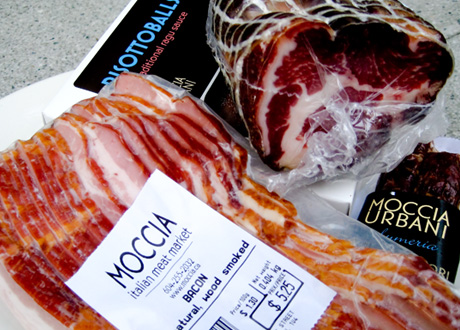 Unfortunately out of their fennel sausage I was hoping to try, I picked up a box of risotto balls, some of their Casatorie, natural smoked bacon and chicken sausages. While standing at the counter a small, handwritten sign said that their products are made with local, pasture raised, humanely treated and antibiotic free animals. Impressive. Equally so is the staff who were patient and extremely friendly. I could feel their pride and excitement about their products. They must have sensed my excitement too since they offered me a freshly made risotto ball while I was paying. A nice touch, and one that brought back childhood memories of getting a free cookie at the bakery! It was terrific, and completely validated my purchase of a box, conveniently frozen and a no-brainer to pop in the oven and serve as an appetizer one night. I may not even let on I didn't make them!
Somewhat reluctantly, I left Moccia heading west to hit Gourmet Warehouse to pick up a Father's Day gift. Normally, I go in there to buy myself presents, but this time it really wasn't for me. I was there specifically for a few bottles of Ronnie & Denzel's Natural Champions BBQ Sauce. I have to say, aside from the fact this is award-winning sauce from two award-winning guys, it's also packing we designed so is very close to my heart and extra special to give. Couldn't resist and grabbed some Nando's garlic peri peri and a can of Nomu smoky peri peri rub for myself because I couldn't resist, and was out of both (think alder smoked peri peri beer can chicken).
My final stop was Columbus Meats at 1655 Renfrew Street for their homemade smoked capicolla. It comes in mild and spicy versions though I prefer the mild as it's more versatile in the kitchen. With a gentle smoky flavour, and a deep complexity that's difficult to articulate (hmmm, an odd thing to say on a blog about food!), there's just something magical about it. In some ways I prefer this level of smoked flavour, and the subtlety of it to the big, distinctive trademark smoke of Commercial Drive favourite, JNZ Deli's, cured meats. I've chopped up and fried this capicolla to use with sautéed local asparagus, in roasted potatoes with shallots, on eggs and just plain on a charcuterie plate with or without the sweet and spicy Honeycup Mustard I still rank as my absolute favourite. Grabbed a few fresh fennel sausages on my way out the door.
And that was my Saturday afternoon. I arrived home to find my daughter still asleep and my appreciative wife hungry enough for the empanada and mil hoja I brought her.
I've read good things about Cioffi's though don't recall ever having been there. Other good sausage places worth checking out are Bosa and Oyama as well as Polonia Sausage for homemade Polish sausages. I'm curious to hear other opinions on Vancouver's best places for charcuterie, fresh and cured meats. Tell me not just where you go, but what you buy. Do share!