Choux Choux Charcuterie
Posted by Evan Leeson on Monday, July 6th, 2009
Tags for this Article: artisan, chop, choux choux charcuterie, european, island, pig, pork, sloping hill, smoke, smoked, vancouver, Victoria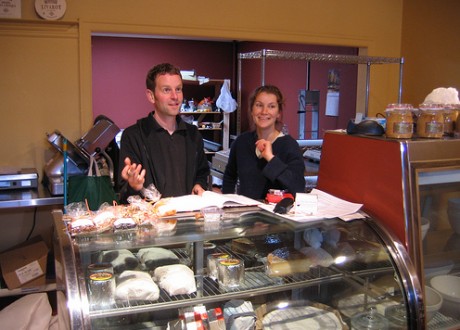 I commute weekly between Victoria and Vancouver. For those of you who have never been, Victoria is a small city on the Southern tip of Vancouver Island. It is 30 minutes by float plane from Vancouver. It is also within striking distance of world-class cuisine such as that offered at the ground-breaking Sooke Harbour House. However, like Vancouver, Victoria has a growing foodie scene, and small artisan shops are popping up. One such gem is the Choux Choux Charcuterie.
Located right in the heart of Victoria on Fort Street, the Choux Choux invites you with wafts of rich smells that vary with the style of meat preparation underway just behind the counter. On the day we visited there was a rack of smoked pork chops on the counter lined up like books on a shelf. And what a fantastic porcine narrative of mouth-watering intrigue and revelation they proved to be.
We were fascinated and impressed by the Choux's range of artisan cheeses, oils, vinegars, stocks and other fare, but we were consistently distracted by the rack of smoked chops. It kept calling to us via our nostrils. As much as we wanted to learn about the full offering of this unpretentious but clearly expert-selected inventory, half-way through our perusal we caved and bought the biggest chop on the rack. We retreated out the door to one of two cozy tables located on the sidewalk directly in front.
There in the sunshine we devoured the glistening, smoky sample of Sloping Hill Farms loin. It was such a decadent and intense snack. We were heading out for dinner that day but wound up have one round of tapas instead thanks to the sheer intensity of Wanda's relative. It just happened to provide a good foundation for martinis as well.
The Choux Choux Charcuterie is just another reason for you to plan a trip to the Island. Don't miss it for a light lunch or for booty to be hoarded and returned to the mainland.
Mailing address:
Choux Choux Charcuterie
830 Fort St
Victoria, BC, CANADA
V8W H8H
Phone
250-382-7572
Email
info [at] chouxchoux.ca
Use the controls to refine your view.
Hours
Tuesday to Friday 10-5:30, Saturday 10-5. Closed Sunday, Monday and Holidays.