Batali = così delizioso
Posted by Nancy Wu on Sunday, September 19th, 2010
Tags for this Article: Anthony-Bourdain, bucatini, Carnevino, italian, Joe Bastianich, Las Vegas, Mario Batali, Mario Cooks app, meat, No Reservations, restaurant, salumi, Seattle
Let me just cut to the chase and say that the Batali family really know how to delight a meat-loving diner. I have always wanted to visit Salumi (co-founded by Armandino Batali, Mario's dad) ever since I saw Anthony Bourdain's Pacific Northwest episode of No Reservations. It sounded like a nice place to have lunch but we could never seem to be in Seattle at a time when they're open (talk about limited hours: Tuesday to Friday, 11 to 4pm or whenever they run out). I promptly forgot about it until it was mentioned again on Foodists earlier this year with Brenda Lowe's "21 Reasons to Drive to California". Her writeup and several others online were enough to convince me to make the pilgrimage.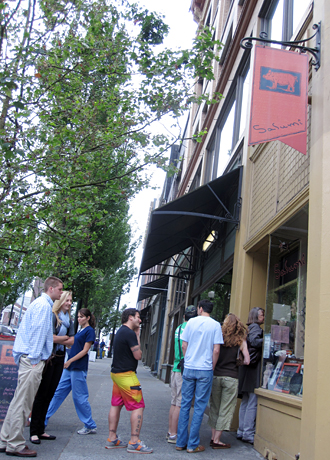 We arrived on Thursday about half past noon only to be greeted by a lineup of about 18 people or so (plan ahead as there's always a lineup, esp. on Fridays when they make fresh gnocchi). Waiting for about 20 minutes, we noticed the mood and how chipper everyone was, as if in anticipation of a great rock concert. Perhaps it was learning that many of them weren't there for the first time. It was certainly a talkative bunch with regulars telling others their favorite sandwiches (porchetta & meatball sandwich were often mentioned) and several newbies like us, giddy at what was to come. As the line moved steadily, Gina Batali (Mario's sister) came out to wipe out a menu item from the day's special sandwich board. Certain items sell out during the course of their short public operating hours so once again I say, plan ahead!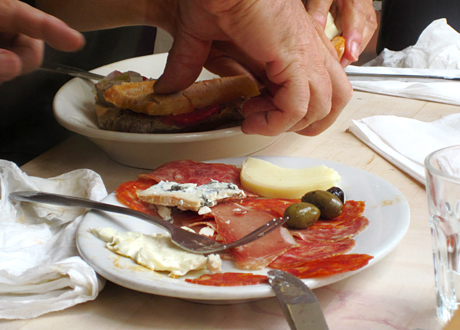 As we got closer we were able to see a couple by the front window enjoying a sampler plate of cured meats, cheese, olives & fresh crusty bread. Their faces said it all. Yah-umm.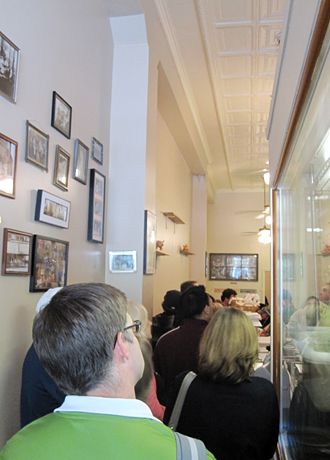 Minutes later, we got inside the building into a narrow corridor where the walls were lined with old b/w family photos and a menu board in which everything sounded appetizing. As we waited, a guy came squeezing past us as though he was Indiana Jones with something gold and shiny, salivating right out the door. Behind him came another fellow, handing out samplers of meat to taunt us even more. (Oh, why did I eat breakfast this morning?!?)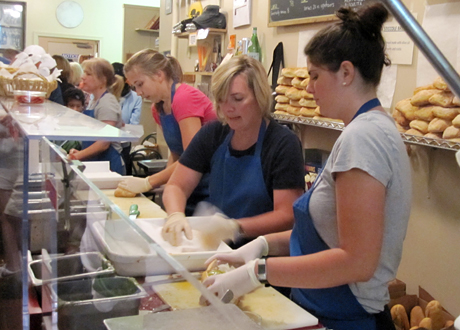 Finally, we arrived at the meat slicer & sandwich counter where a lineup of women were busily cutting up fresh salami and making fresh messy sandwiches to order. Everything looked so good as they continued to offer more samplers to those who were undecided or to further distract people from their original choices.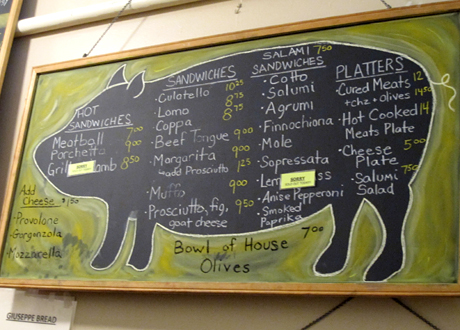 Trust me, it's all good. Just depends if you want something peppery, citrusy, bold, fatty, etc. I settled on the meatball sandwich (Mark Busse's recommend), my husband got the porchetta and our son charmed his way into some free kid-friendly salumi & bread.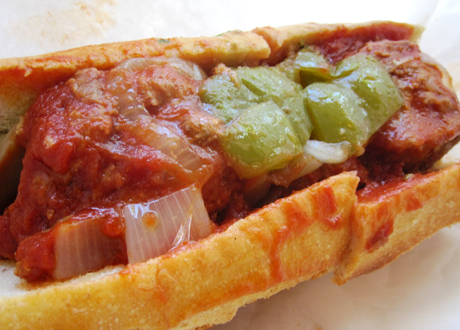 Holy crap. My sandwich was orgasmically amazing. Flashback 10+ years ago, when I was in Florence, Italy and my mom and I ate at this tiny diner beside a farm where everything was super fresh and flavorful. The tomato sauce was a basic chunky sauce but oh so delicious that I asked them how they made it taste so wonderful. The woman pointed out to the fields at her tomato crops. This sauce tasted just like that. Oh man, it was sooo good but incredibly filling. I can't imagine eating an entire sandwich and only managed half. The porchetta sandwich was also good but more punchy in flavor than I expected. But that's the Batali way. Flavorful. Exciting. Vibrant. Delicious.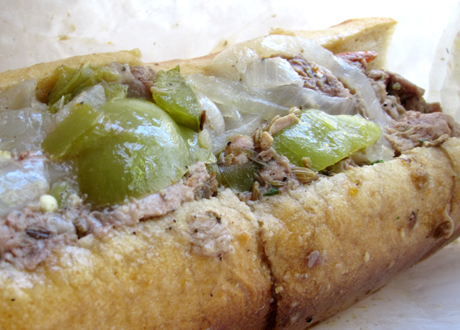 So it was no surprise that our son insisted we go again the next day. We got there late and missed out on the fresh gnocchi (which sold out quickly, no surprise) but shared the sampler meat plate (highly recommended! Btw, my fave salami was the hot sopressata) and had the baked zucchini (also HIGHLY recommended!!). Why are there no pictures of these? We were too busy enjoying everything again that I honestly plain forgot. Gina was so thrilled that we came back again so soon and enjoyed the origami pig Joseph folded for her, placing it beside the photo of Anthony Bourdain on the ledge. Thank you Armandino & Gina for making such a huge impression. We will be back.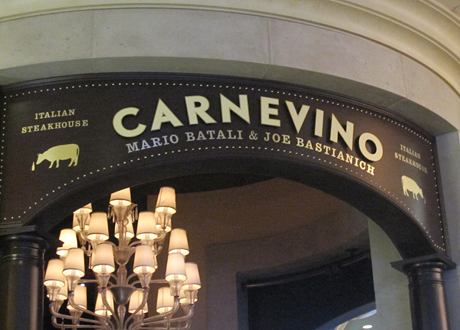 However, the love doesn't stop there. A few weeks later, I was traveling in California and had a layover in Las Vegas. What could I do for dinner, I wondered? Fellow Foodist Johnathon saved the day recommending a visit to Carnevino (headed by none other than Mario Batali & Joe Bastianich, known for a string of very successful restaurants throughout the U.S.). This was perfect as you recall my search for bucatini all'amatriciana and my attempt at making it myself. Well, guess what was on their menu!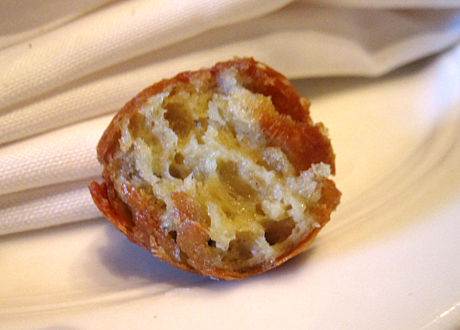 I wanted to try a few items to go with the pasta and chatted up my ever kind and most helpful server Mike, who ensured my trip would not be in vain. The meal started off with an unassuming amuse bouche that looked like a little donut hole crusted with few bits of kosher salt. It was cheesy, crispy and quite delightful.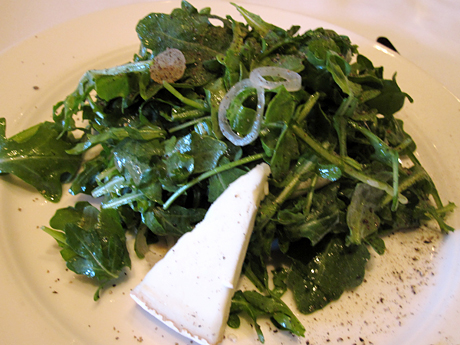 That was quickly followed by a fresh arugula salad with the most amazing goat cheese (and I hate goat cheese; this Coach Farm triple cream cheese was NOT gamey at all and tasted like a creamy rich brie), thinly sliced trumpet royale mushrooms and onion pickles. Perfection and hardly a side salad (forgot about portion sizes south of the border).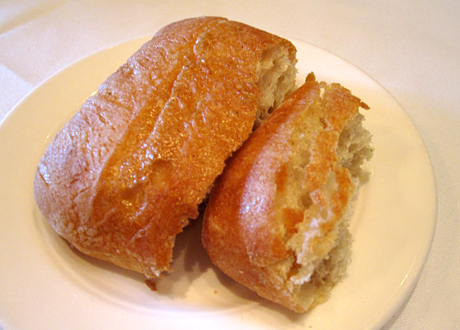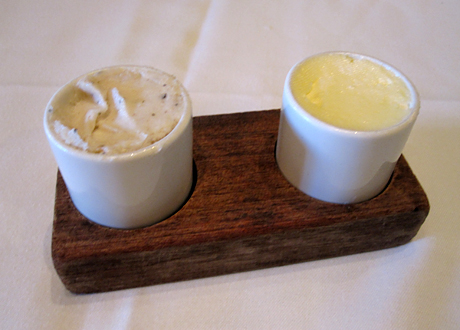 The theme of Carnevino seems to be fresh ingredients, bold flavors and highly appealing taste combinations. Even their bread was no exception. A hand-sized square loaf of crusty foccacia bread was offered with a choice of lardons & butter to spread. I was reassured that the lardons had lower cholesterol than the butter; like that would stop me from having a little taste (even though I was already starting to feel a little full)! Then the main entrée arrived.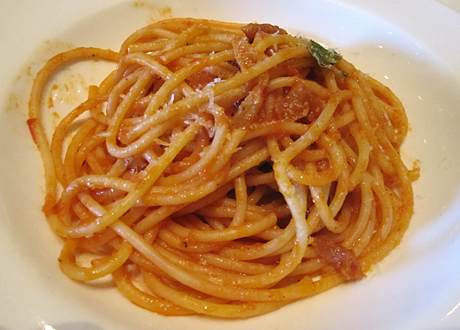 The bucatini looked the same as I remembered at Terroni but the flavor was so much stronger. I don't know if it was better but it was certainly different as the powerful flavor in Batali's version I suspect was due in part to the crunchy salty chunks of crispy guanciale throughout. Where I cut small cubes of it in my homemade version, Carnevino had almond-shaped slivers throughout. The sauce was also that same clean chunky tomato sauce that coated the meatball sandwich at Salumi. The texture of the pasta was firm and the pecorino had punch. Oh I was in bliss yet again! I was just able to finish up the rest of the pasta, when Mike comes by with another dish courtesy of the kitchen.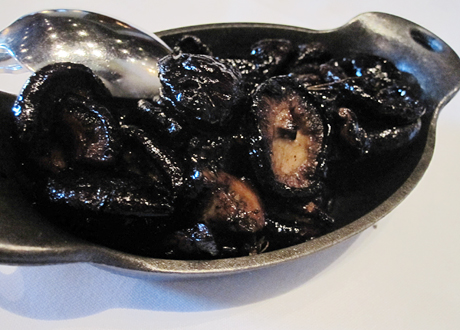 Earlier, I was curious about the roasted shiitake side dish but didn't think I would have the room. 3 bites. SO good. SO full. If only I had a hollow leg as a stomach annex.
If I was Jimmy Fallon, I'd do a thank you song about the Batali family. But I'm not. Instead, I will simply say:  Thank you everyone at Salumi & Carnevino for taking so much pride and joy in what you do, spreading the love of fresh delicious Italian food to delight our senses and round our tummies.
And giving us reason to workout a little harder so we can do it again together soon.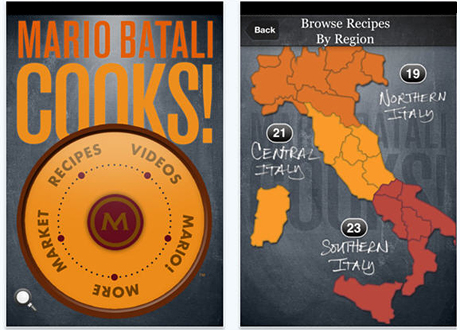 P.S. Mario Batali has just released the "Mario Cooks" iPhone/iTouch app for the introductory price of $4.99 (sorry, it doesn't work on an iPad What a difference 20 hours makes. Since posting this writeup, version 1.3 was released fixing some bugs and making it iPad friendly. YAY!). Chock full of his signature dishes, this app lets you browse recipes by region, shop for ingredients, keeps track of cooking times for you, matches wines to dishes and is full of videos demonstrating kitchen basics, cooking techniques & step-by-step recipes…including the dish that started this whole thing, bucatini all'amatriciana.