Toronto Cheap Eats Top 10
Posted by Dave Delibato on Friday, March 26th, 2010
Tags for this Article: cheap, Ethnic, pizza, reviews, Terroni, Top 10, Toronto, where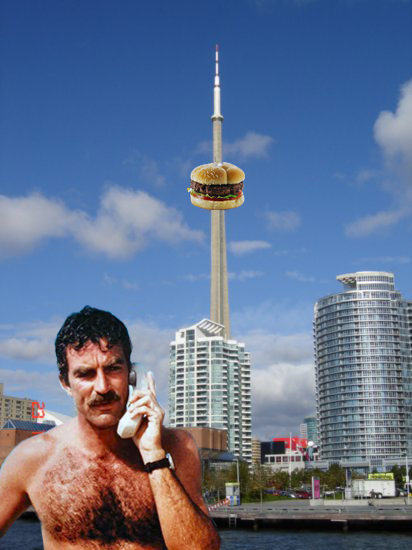 Recently, I was asked what my favourite restaurants in Toronto were. And I kinda sat there, blankly — stricken by the realization I couldn't actually think of any. Could it be that I had just moved back to the city after a 5-year stint out West and didn't quite know the score? Perhaps. Was it that Toronto had since been dethroned as the arguable culinary capital of Canada by the upstart likes of Vancouver? Maybe. Yes, Van has Vikrim. Van has Tojo. And the rest of the country doesn't even know what izakaya is. Still, there are ludicrous gaps in Vancouver's cultural and gastronomic repertoire. Proof? Try to find something so elementally satisfying as decent, authentic pizza. (Regrets, Vancouverites — you and you alone, are responsible for Panago and the success of the near-vomitous Flying Wedge.)
Okay, back to the 416… Rain? Canoe? Scaramouche? Bymark?
Bah!
"Bah" because when it really gets down to it, I'm a cheap bastard. Oh, I'll pay handsomely for exceptional experiences. But ever the diligent home economist, I'll have to consult my non-guaranteeable-exceptional-experiences-over-time chart and grade my purchases on the curve. I'm afraid anything that plots on the lee-side of the bell, will get spent on the surefire delights I'll gladly outline for you below. I'm also looking for food that flexes Toronto's unique and sizable multicultural muscle — with literally half of its diverse population born outside this country, nothing but good and tasty can come from that. And because of this strange and uniquely Torontonian cultural alchemy, my final criteria is that these dishes be rare and extraordinary. It acknowledges that although there are plenty of other items to enjoy that are on par with other cities, this list is about experiences you'll have trouble finding anywhere else.
So, here we go. A sort of Toronto's affordable, top 10 greatest hits
(in no particular order and no b-sides):
1. Kom Jug Yuen's Barbecue Pork
(371 Spadina Avenue)
Don't visit for the service. Definitely don't go for the atmosphere — through an uncanny, stupefying mystery, they pass their Toronto food inspection with flying colours, every time. Go, now, for the very best barbecue pork. These saline/sweet mouthfuls of gorgeous sell on a mountain of steamed rice for the whopping lunch special price of a couple of toonies. Try the pork floating in a bowl of congee for a most spirited game of "Find the Treasure in the Congee." If you haven't had "The Jug's" porcine magnificence, you only think you've had BBQ pork. Taste it once and it ruins you for anything less, forever.
2. Terroni's Bucatini all'Amatriciana
(720 Queen Street West)
This Toronto chain has it. A success story that combines honest, Southern Italian fare, great atmosphere with line-ups out the door whenever they're open. Everything I've ever had there is delicious but one dish stands alone. This Roman regional recipe is executed with such obvious love for the ingredients as tomato, onion and guanciale (pork cheeks) combined to create a more perfect union. Against this bold, porky goodness of l'Amatriciana, thick bucatini pasta writhe in utter ecstasy — and then, so do you. (You can read more about it in fellow contributor, Nancy Wu's review here, as well as her attempt to recreate the recipe here.) I'm a good Italian boy who loves his mamma and whatever his mamma feeds him. This dish totally kicks her ass.
3. Bonjour Brioche's Brioche
(812 Queen Street East)
Yeast and butterfat are beautiful things. Bonjour Brioche certainly thinks so. This Queen East and Degrassi (yes, that Degrassi) eat-in bakery has been serving french pastry, baguettes, feather-light croissants and perfectly buttery brioche for years. The very air is so permeated with butter you find yourself leaving the place reeking of it (you could probably do with a shower, frankly). If you manage to snag a table inside (impossible, but still more likely on weekdays than weekends) you can sip from your latte bowl and smear jellies, jams and yes, even more butter, on goods that make you oh so very happy and grateful to live in such a civilized place.
4. California Sandwich's Veal
(244 Claremont Street)
In my circle, it's spoken of in only the most hushed tones (as "Sammich") for fear that uttering its real name might unlock a cosmic and diabolical sequence of events that may lead to never being able to have it again. Be prepared for a wait because every cop, paramedic, firefighter, general contractor and every local business in the area knows of this place, too. Although a chain, if at all possible, go to the original location on a little residential backstreet (in what now is considered Little Portugal) called Claremont and witness the most exquisite death of a young calf ever devised. Feel bad about eating young cows? Chicken is also on offer. (I've had it. It's great.) But the saucy, breaded veal cutlets on a kaiser with "the peppers" is… well… my sweet Jesus. Always pre-order it cut in half — you'll only realize the wisdom of this when you behold its messy, gargantuan proportions. Of anything mentioned in this post, this is a must.
5. Sababa's Falafel Sandwich
(390 Steeles Avenue West)
Toronto has lots of people from the Middle East and as a consequence, lots of their food. Most Mid-Eastern food is conveniently located downtown. This spot's way up in Thornhill and worth the trip, every time. Let's begin with the fact that Sababa is a restaurant/grocery store/bakery that bakes its own pita; hot and piping from the oven (to my knowledge, no one downtown does). Let's then go on to their satiny tahini sauce; freshness that actually tastes and smells of sesame. Then they include a zippy variety of pickles and tabouli (parsley salad). And finally, the bestest, freshest, hottest chickpea patties anywhere. A wonderful balancing act of cool, hot, earthy, starchy, sweet, bitter, tangy and spicy all wrapped in a most solemn prayer of thanksgiving. Allah is definitely in the details.
6. Allen's on the Danforth's Capon Wings
(143 Danforth Avenue)
There are good and bad but let's face it — all chicken wings are more-or-less edible (especially after your third beer). Most of them are the classic Buffalo style wings which tend to be fried (sometimes with a breaded or floured coating) tossed in a dressing of margarine and Tobasco sauce in varying ratios. I prefer my wings oven-baked or grilled, personally. That mentioned, Allen's capon wings have a taste unlike any I've ever had before, and that's why they make the list. They're big (capons' wings are larger than hens) they're smoky with a subtle heat and most definitely "Worchestershirey." They're served with a crumbled blue-cheese dip, which depending on my mood, can be a bit of an over-achiever in flavour and richness. That truly unique offering, combined with an Irish pub that really sweats the details — uncommonly nice surroundings (Toronto's full of yawn-inducing chain pubs), polite, aproned waitstaff with abundant knowledge of their food and their staggering beer and spirits selection, not to mention one of the best back patios anywhere, make it a knockout punch.
7. Café Diplomatico's Panzerotti
(594 College Street)
Is a pizza folded in half and deep-fried a regrettable health decision? You've made better ones. Is it tasty? You betcha. If you're going to commit to the ponderous caloric payload of this street food from the Apulia region (Italy's heel) this is the food to do it with. I wouldn't have normally placed something so pedestrian on this list if it wasn't for the simple fact that Café Diplomatico makes it so good, every time. Don't get fancy with the fillings — cheese and maybe pepperoni are best — you will get a golden brown, satisfying half-moon of heaven. It comes covered in Diplomatico's marinara sauce and you must let the nuclear, face-melting steam out to cool down (I like to shake a few dried chilies over top). You Vancouverites just go ahead and dig in; none of your snooty, health-conscious friends can see you now. The ideal pre or post-drinking night meal. Bring your big eatin' pants.
8. El Assador's Pork Taco
(690 Bloor Street West)
In the middle of Toronto's Koreatown are these Salvadorans know how to make a great pork taco. Why? I don't know, nor am I about to look that gift horse (pig?) in the mouth. Order it crispy (a popular choice) and you get a delicious flash-fried tortilla. Order it soft (my preference) and you can add the salsa and a squeeze of lime more easily. Just sit yourself down at one of the 6 indoor picnic tables (this joint's small), enjoy the absurdity of Latino Telenovela programming blaring in the background and prepare for a treat for only $2.70 each. It's so rare when an honest, hard-working, friendly, family business wants to give you so much pleasure for so little in return. My only advice is to order just a little more than you think will satisfy you — it is a wise choice considering how busy and tiny this place is, it makes a re-order a giant pain (but still worth it).
9. Buk Chang Dong Soon Tofu's Soup
(691 Bloor Street West)
Directly across the street from El Assador (above) is Soon Tofu. While Ossington battles it out over who's got the best Pho (I don't care how much Susur Lee loves Golden Turtle, I think it's kinda 'meh') you can be sitting down to a wee bit of theatre with the Koreans. The place is as plain as it gets – it kinda looks like a ministry branch office whose function is to supply citizens with their soup ration. That doesn't keep them from turning table upon table of hip, Korean kids jacked up on soju. First come the traditional pickles — daikon radish, bean sprouts, kimchi and some kind of sweet, fermented beans (eat 'em; they're awesome). Then, get out of the way of your frantic waitperson as they arrive with your very own die-cast cauldron of roiling, angry, spicy broth with tofu (if you don't move, this stuff will seriously send you to a hospital — it's like lava). They bring a pot of purple rice in a stone bowl. You also get a whole egg which you get to crack and stir into your soup yourself, to create floating 'rags' in the broth. After that, take your spoon, load it up with rice and submerge in spicy broth for a very good time; all for the hilarious price of under $8. Tip #1: I order the #6, which is vegetarian. Tip #2: either go home and have a shower whilst gargling Listerine, or call it a night because you will smell, very strongly, of what you just ate (definitely not a good date — unless you're both into that sorta thing). Tip#3: this stuff will banish any cold you may have to the far corners of hell.
and finally…
10. Pizza Libretto's Margherita
(221 Ossington Avenue)
When I write that pizza should be "elementally satisfying" this is what I mean. Pizzeria Libretto claims to be signatory to the Verace Pizza Napoletana (True Neapolitan Pizza) Association. San Marzano tomatoes. Fresh buffalo mozzarella. The whole deal. This is not Chicago deep-dish pizza. This isn't New York style. (I'm not so much of an obnoxious purist to state that North American bread n' sauce can't be "pizza" too.) What I am declaring, however, is that it's as close to authentic pizza as you can ever have without going to Naples. And the Margherita is the ultimate test — the "vanilla" of pizza — a pie stripped down to its most honest and rudimentary elements. Because if you can't make Margie, put your baker's peel down and step away from the oven. Libretto has earned its everyday dinner line-ups with light, delicate, beautiful, blistered, flavourful perfection.
So, that's it. Enjoy your stay in Toronto City.