New Orleans Adventures: Po-Boys
Posted by Guest on Wednesday, April 7th, 2010
Tags for this Article: gumbo, New Orleans, nola, sandwich, shrimp, Travel
Hidden away on a small side street, mere steps away from the New Orleans Cooking School stands a small po-boy place – Johnny's. The internet reviews rave: this is THE place for po-boys in NOLA. Johnny De Grusha's motto is "even my failures are eatable!" With such a reputation, we decided to test out this claim for ourselves. As we walked in, we were immediately shocked at the sheer number of photos of famous celebrities that were autographed with notes of "thank-yous" to the owners. "This must be the best place in town!" I thought to myself as my stomach rumbled with anticipation.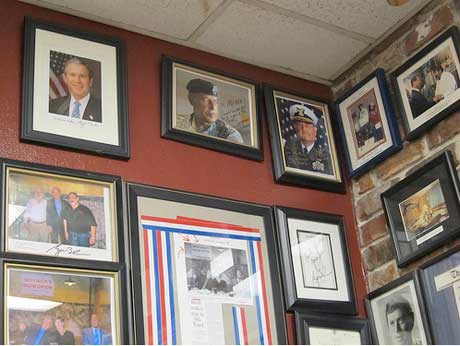 We quickly grabbed a seat behind one of the few available tables and lined up, with plenty of time to peruse the extensive menu as the billion other customers were served before us. The menu featured such delicacies as alligator and crawfish po-boys, fried seafood platters, and breakfast items. I ordered their special – a half deep fried shrimp po-boy with a small seafood gumbo, while Steve got a full Johnny's special po-boy (he was quite optimistic that he would be able to finish it all!).
The po-boys were very reasonably priced, at about $8 each. As with most other places in NOLA (New Orleans), the veggies were not really included in the meal. An extra 50 cents bought you the lettuce, tomato and pickles if you chose to add some vitamins to your meal. The portions were giant! The po-boys looked quite appetizing: the shrimp were fried golden brown and nested in fresh white bread, with mayo and a bit of shredded iceberg lettuce. The first bite was not disappointing – the shrimp were not overcooked, the outside was crunchy, the inside was juicy. However, after a few chomps, I found the po-boy a bit too much to handle.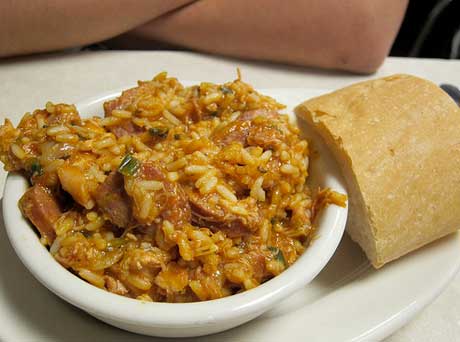 I thought the bread was too thick, and overpowered the taste of the delicate shrimp, and it was just too dry for my taste. I ended up eating the shrimp separately, and then using the bread to dip into my gumbo – now that was a successful combination! I was very pleased with Johnny's gumbo – smooth on the palate, with large chunks of seafood.
Steve's Johnny's special seemed to have an opposite effect. Johnny's special consisted of roast beef, grilled ham, and two types of cheese. The roast beef was cooked in a thick gravy that definitely added juice to the bread – no gumbo dipping required. It also made the po-boy easier to fit in one's mouth. Steve found Johnny's special a bit too soggy and messy to eat, because the gravy quickly seeped right through the bread and ended up all over his hands. The portion size was also definitely too much for one regularly sized person, and we highly recommend sharing a po-boy between two people.
Johnny's was not worth the hype, but definitely beats Subway for cheap lunch for the frugal tourist.
Johnny's Po-Boys
511 Saint Louis Street, New Orleans, LA