Cooking Octopus
Posted by Boris Mann on Monday, April 19th, 2010
Tags for this Article: Barcelona, garlic, Greek, lemon, octopus, polpo, tentacle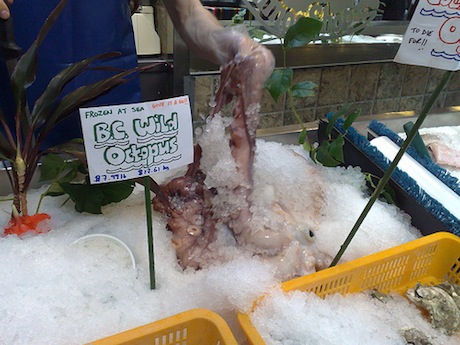 So there I am at Granville Island. And there's a big lump of BC Wild Octopus just sitting there.
I've never cooked anything other than baby octopus (stir fried quickly with garlic, butter, and wine). I had no idea how to cook an entire octopus, let alone the single big tentacle I was planning on buying.
But, I did have many fond memories of various "polpo" dishes in Barcelona, like this Polpo a la Gallicia – soft boiled potatoes with tender discs of octopus tentacle with a dusting of paprika.
So I buy a tentacle; almost one and a half pounds, and (as it turns out) just about the right amount for two people.
Back at home, a quick web search leads me to a great Greek recipe for grilled octopus at kalofagas.ca.
OK, so step 1 is to braise the octopus. I only had the tentacle, so I added a little water, as well as some pepper, oregano, and a garlic clove. Here's right before I put it on the heat:
I braised the tentacle for about 30 minutes over medium heat with the lid on, adding a little bit more water as needed. Here is what it looked like before turning the heat down (just before adding some more water). You can see how much it has shrunk already, and the red liquid in the pot. That colouration is from the octopus itself.
After the tentacle was done ("fork tender" – I think I should have kept mine at a lower heat and probably done 45 minutes), I took it off the stove, added a splash of red wine, and let it cool to room temperature. Then I chopped up the tentacle into bit size chunks like so:
I placed these chunks into a pan, added olive oil, a couple of chopped garlic cloves, and a spoonful or two of the braising liquid. I then placed my gas stove on broil and placed the pan in the broiling rack. I left it in for about 15 – 20 minutes, stirring the pan several times to coat the octopus in oil and making sure the garlic chunks didn't go beyond dark brown. The tentacle bits were nicely crisped along the edges.
I plated it with boiled yukon gold potatoes and a side of broccolini with lemon wedges. The lemon goes great over everything on the plate. There was still a bit of chew to the octopus – not sure if I should have done smaller chunks, braised it longer, or what. The flavour was tasty and fresh balanced with the crispness and the toasted garlic.
Cooking octopus turns out to be easy, and the end results are delicious. I'd like to give it another try with a whole octopus and actual grilling rather than just my oven broiler.