Culinary Guilt
Posted by Steve Mynett on Tuesday, August 12th, 2008
Tags for this Article: cooking school, online cooking, online recipes, rouxbe, rouxbe.com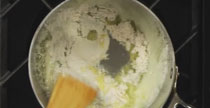 I have to preface this with a short confessional. I've got this growing interest in culinary exploration but in typical Vancouverite fashion I jump at every opportunity to spend time in the sun and this last weekend I had the best of intentions of diving into a few new lessons and a meal or two, but got coaxed outside for some sun and patio fun. I do, however, pledge here and now in front of our readers that I will make a more significant effort to combine flour with butter, and pan fry garlic and onions on a regular basis.
With this guilt hanging over my head I passed on the Daily Show and started in on the Sauces lesson over at Rouxbe. First impressions: WHOA! I could sit down and digest the first lesson one in one sitting and retain all the information but there's more of everything in the second lesson. More videos, more drill-downs, more tests and more things to practice. Based on the first lesson I thought I would be able to fire through the 24 lessons reasonably quickly but there's a lot more info here than I thought.
Roux and Bechamels are under my belt with good marks but still need to try them in the kitchen. I've also been making loads of greek salad (good knife practice!) Next up I need to find something to make with a Roux. Suggestions?
Also trying to expand my culinary tools. Anyone have a "20 things you MUST own" list? Otherwise I can go blow my line of credit buying new Kegerator.