The Meat Class at Dirty Apron
Posted by Denise Boyle on Wednesday, March 31st, 2010
Tags for this Article: beef, cooking classes, food, lamb, learning, meat, pork, steak, vancouver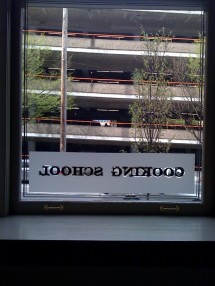 Last month was my birthday.  As always, my lovely husband spoiled me rotten – dinner at Tojo's, a beautiful Shun chef's knife and a cooking class at Dirty Apron.  He had originally signed me up for the knife skills class, but a quick look at the choices and I immediately changed it to Meat Eater's Unite – The Meat Class. 
The name says it all, and chef instructor David Robertson started with a warning that we would want to go home and take a nap after we were finished.  He wasn't joking!  During the 4 hour class, we would make 3 different meat dishes.  First we would watch David demonstrate, then we would go to our stations and prepare the dish ourselves.  As each dish was completed, we would make our way to the dining room to enjoy the meats of our labour with a glass of wine or sparkling apple juice.  This great review from last August describes Dirty Apron perfectly.  It really is a beautiful space, very well equipped and David is an enthusiastic and talented instructor.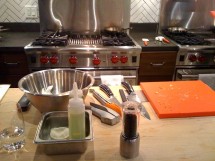 First on the menu was Grilled Lamb Chops with Olive Tapenade and Herb Crust, served with a side of Warm Caramelized Onions topped with lightly dressed arugula.  All of the flavours worked very well together; none of them overpowered the other, they just combined perfectly with every bite.  The olive tapenade was very basic – calamata olives, garlic, olive oil and lemon juice, and the herb crust consisted of panko breadcrumbs whizzed with mixed herbs in the food processor.  It's a great way to use up fresh herbs that might be a little limp, but are still full of flavour.  They can be used for all kinds of meat or fish (change the combination of herbs used to suit your needs) or mixed into pasta or vegetable dishes. They keep their beautiful green colour and they will also store well in the freezer.  This was an impressive looking dish that can be mostly prepared ahead of time, so it would be perfect for a dinner party.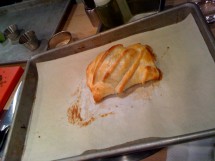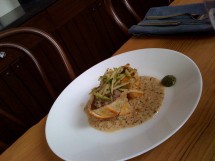 Our next dish was Pork Wellington with Grainy Mustard Sauce, served with Black Pepper Apple Slaw.  The Berkshire pork tenderloin, cut into individual servings, was seasoned and seared, coated with grainy mustard and thyme, then rolled in puff pastry.  Once cooked, it is cut in half and stood on it's ends in a lovely mustard and white wine sauce, topped with the apple slaw. This was probably my favourite dish; it had great flavours and a really nice presentation.  The tartness of the granny smith apples worked very well with the pork and mustard, and the pastry and sauce added a richness that made it extra special.  Once again, impressive looking and easy to prepare ahead of time.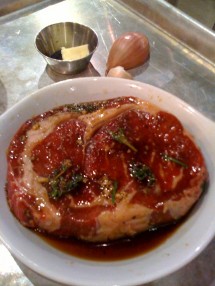 The third and final dish was a Grilled Rib-Eye Steak in Red Wine Sauce with a side of Truffle Mashed Potatoes.  We had prepared our individual steaks at the beginning of class with a garlic, soy, maple syrup marinade, so 3 hours later, they were ready for grilling.  At this point, it's worth mentioning that between each course being prepared and eaten, and the next demonstration, our stations were tidied and prepped with ingredients for the next dish – if only this could be arranged at home!  So, our grills were pre-heated and the cooked potatoes ready for peeling and the food mill.  I must say, I'm a big fan of potatoes and these were divine – mixed with a little cream, butter and salt, the humble potato was taken to the next level with a few drops of truffle oil.  Served with the steak, red wine sauce and a few veggies, this was a simple yet delicious dish.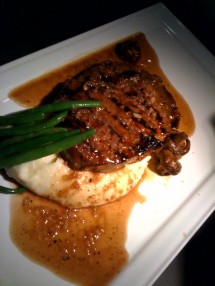 I've attended classes at a number of cooking schools in Vancouver, and I would say this was the most informative and hands-on class yet.  It was nice to make all of the dishes in their entirety vs just one component of the dish, and the dollar to value ratio is definitely worth it with this particular class ($145) – I would almost guarantee that you will go home with a full belly and a nice take-out container with the tasty morsels you couldn't finish.  In addition, the Dirty Apron Shop is well stocked with good quality and hard to find ingredients as well as kitchen utensils.  Two thumbs up!
Here are the recipes:
Grilled Lamb Chops with Olive Tapenade Herb Crust  Serves 2 
2 lamb chops
1 ½ Tbs Olive Tapenade
1 ½ Tbs Herb Crust 
Preheat oven to 400 F & preheat grill or pan
Season lamb with salt & pepper then grill quickly, about 1.5 min on each side
Remove lamb from grill or pan and spread olive tapenade evenly on one side of each chop
Spread herb breadcrumbs evenly over the tapenade – at this point, once the chops are cooled, you can place them on a baking tray in the fridge until ready to cook
Bake in oven for 5-6 minutes until medium rare or until meat thermometer reads 130 F
Serve with a side of warm caramelized onions topped with lightly dressed arugula & garnish plate with a few drops of balsamic reduction and olive oil
 Olive Tapenade  Makes ½ cup 
1 cup pitted Kalamata olives
1 clove garlic, chopped
1 Tbs extra virgin olive oil
¼ lemon, juiced
 Process olives and garlic in a food processor until smooth
With the motor running, add oil in a slow, steady stream until thickened
Season with lemon juice, salt & pepper
Store in fridge up to 1 week
 Herb Breadcrumbs 
1 cup panko breadcrumbs
1 – 2 oz mixed fresh herbs: rosemary, thyme, Italian parsley, chives
Salt & pepper
 Process herbs in food processor until finely chopped
Add breadcrumbs and mix until entire mixture turns green
Season with salt & pepper
Store in an airtight container and store in freezer until needed
Change combination of herbs to suit your needs – keep different mixtures in the freezer to have on hand
Pork Wellington with Grainy Mustard Sauce & Apple Slaw  Serves 2 
2 x 3 oz pork tenderloin, centre cut
2 x 6×6 inch square puff pastry
1 tsp grainy mustard
2 sprigs thyme, finely chopped
1 egg, beaten
Salt & pepper
Vegetable oil
 Preheat oven to 450 F & preheat pan
Season pork on all sides with salt & pepper
Heat vegetable oil & sear pork until browned on all sides
Remove pork from pan; set pan aside, with juices, for later use
In a mixing bowl, incorporate mustard, thyme & pork, coating the pork on all sides – cool pork before next step otherwise the bottom of your Wellington will get soggy
Place puff pastry on a work surface, brush the surface with beaten egg, place pork at bottom centre of sheet and wrap to cover, putting join on the bottom
Seal sides by pressing down, cut thin pieces from edges of pastry to make straight and use the thin pieces to make a design on top of the Wellington
Transfer to baking sheet and brush entire outside with egg – at this point, you can place them on a baking tray in the fridge until ready to cook
Bake for 10 to 12 minutes until pastry is golden or until meat thermometer reads 145 F
Once cooked, cut pastry ends off of each Wellington to make a base and cut the Wellingtons in half; stand the 2 pieces on the base, in mustard sauce and top with apple slaw
Grainy Mustard Sauce  Serves 2 
1/3 cup white wine
1/3 cup chicken stock
1/3 cup heavy cream
2 tsp grainy mustard
½ Tbs chives, chopped
½ shallot, finely diced
1 clove garlic, finely chopped
Salt & pepper 
Using the pan the pork was seared in, sauté the shallots and garlic over med high heat in vegetable oil until soft
Add white wine & chicken stock, reduce to ¼ of the liquid
Reduce heat to medium low, stir in cream & mustard
Continue cooking until liquid is slightly thickened
Season with salt & pepper & add chives just before serving
 Black pepper Apple Slaw  Serves 2 
½ granny smith apple – skin on, cut into matchsticks
1 tsp coarsely ground black pepper
1 tsp sherry vinegar
1 Tbs olive oil
½ Tbs chives, chopped
Salt
 Place all ingredients in a bowl, mix, season to taste & keep in fridge until needed
Grilled Rib-Eye Steak with Red Wine Sauce  Serves 2
 2 x 6oz Rib-eye steak
1 Tbs olive oil
1 Tbs maple syrup
1 Tbs soy sauce
½ Tbs ground black pepper
2 cloves garlic, minced
2 sprigs thyme
2 sprigs rosemary
Fleur de sel
 Combine steak with all ingredients, except fleur de sel, in a bowl, & leave to marinate 2 – 3 hours
Preheat grill on high
Remove steaks from marinade and pat dry with paper towel
Season with fleur de sel & transfer to grill, cooking 4 – 5 minutes on each side for medium rare – a meat thermometer should read 125 F
Remove from grill & allow to rest for 5 minutes
 Red Wine Sauce  Serves 2
 1 shallot, finely diced
1 clove garlic, minced
1/3 cup red wine
1/3 cup beef stock
1 Tbs cold unsalted butter
Vegetable oil
Salt & pepper
 Sauté shallot & garlic in oil in a small saucepan, until soft, without browning, about 2 minutes
Add red wine & beef stock, reduce to about 1/3 of liquid
Add chilled butter, whisking in a bit at a time, season with salt & pepper
Strain through a fine sieve, if desired; keep warm until needed