Two Alternative Magazines for the Food-Obsessed
Posted by Nancy Wu on Tuesday, August 23rd, 2011
Tags for this Article: Anthony-Bourdain, app, chinese, cookbooks, David Chang, Fire & Knives, food magazine, Foodists, iPad, Japan, Lucky Peach, McSweeney's, Momofuku, Momofuku Milk Bar, ramen, Tampopo, Tokyo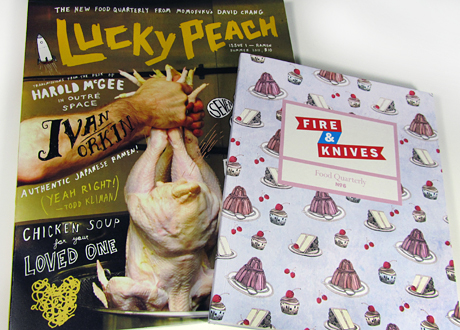 Hitting my local newsstand, it's not hard to find the usual suspects vying for your attention, featuring the sexiest food photography to make you forget you just had lunch. Saveur, Everyday Food, Bon Appetit, Gourmet…the list goes on. All great food magazines in their own right. But there are alternatives, literally speaking.
I recently came across two very unique and distinctly different magazines worth the time to read, that boast some creative design formats. Neither contain any advertising or staples, making them worth keeping and reading cover to cover.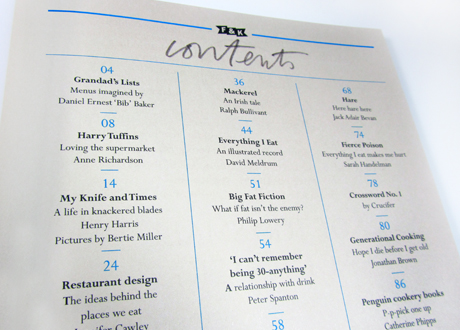 The first is Fire & Knives, a UK print quarterly (launched in November 2009) that gives established writers a place for work that wouldn't be published elsewhere, new writers & illustrators a place to introduce themselves, and experts in other fields an opportunity to write about our favourite subject.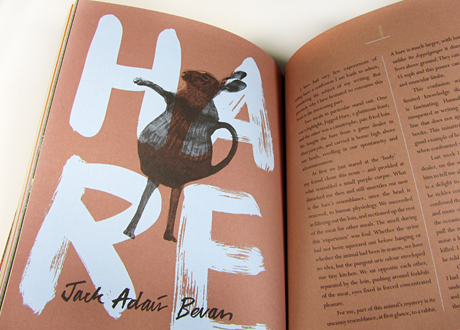 I discovered it upon reading the latest Creative Review Design Annual and was kindly offered a print sample from editor, Tim Hayward. Reading the first dozen pages, I knew it was definitely a British food publication for an English audience. From a design perspective, it is a lovely perfect bound dull-coated softcover book to treat as a keepsake, rather than a glossy disposable saddle-stitched rag. I loved how each story ran with its own personal format (no rigid grids or style sheets here folks!) and was very literary in visual tone and approach (using Gill Sans & Perpetua typefaces, both designed by British typographer, Eric Gill).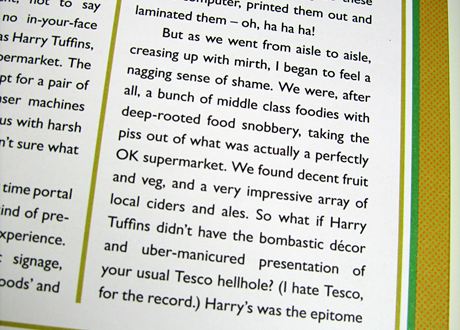 For those who've never ventured into the United Kingdom, terms like lorry, punters, spanner, Tesco and "taking the piss out" would require an English-British thesaurus. The stories in Fire & Knives are not the typical mass-market kind with sexy food porn shots, theme-related recipes, expert foodie Q&A, culinary-based advertising or smiling celebrity chefs. Rather, these are highly entertaining stories about everyday life in the UK integrating some kind of aspect of food. Whether it be the opening story of a woman who shared two pages of handwritten notes written by her elderly war veteran father, whilst he contemplated a tea and supper menu on the field, or about one's account of stumbling upon a grocery store stuck in a 1979 time warp. The language and writing is so vivid, you don't have to be British to get it; but it most certainly helps.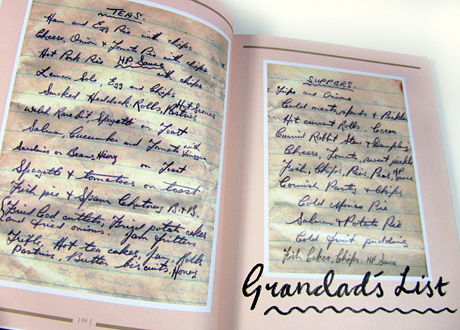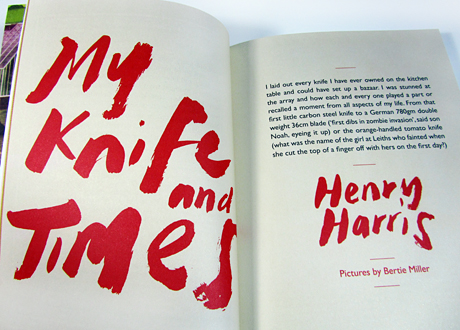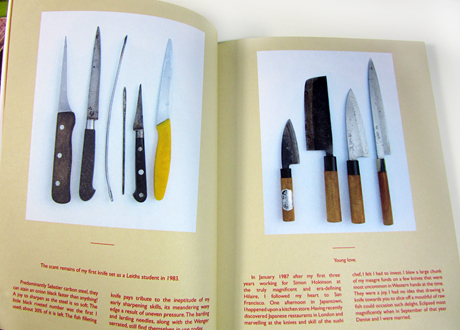 Reading a story on how to cure your own ham is remarkable as the writing is so good, you don't need visual support to get across Henry Herbert's passion for the process, leading to that tasty bite at the end of the tunnel. Most of the articles have no visuals other than a loosely hand drawn illustration and/or type treatment to open up the story. Overall, this single issue alone introduced a broad range of interesting subjects: one's collection of knives over the years, how to catch and kill your own mackerel, a food crossword, a woman's personal account of juggling a love of food with farting, and one just right for me—brand design for restaurants!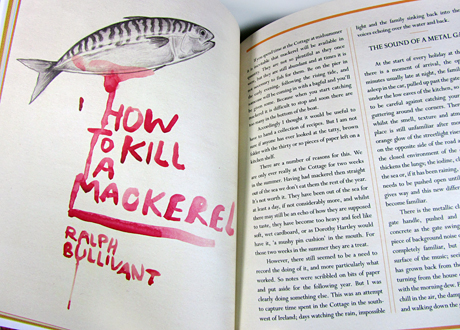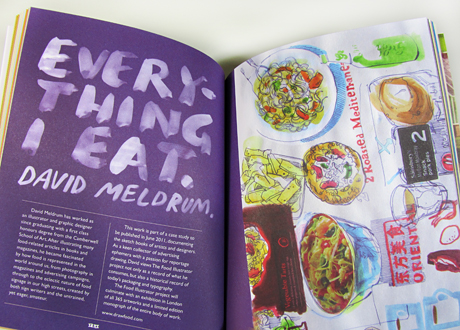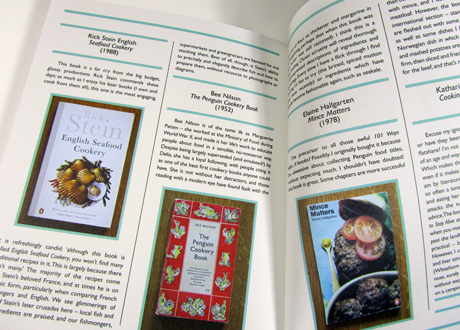 Fire & Knives is a UK magazine: prim proper and literary in feel and format. On the flipside, Lucky Peach is a US publication: edgy, passionate to the point of obsessive, and hands-on reflects the personality of Momofuku's David Chang (always curious, particular, easily bored and led by intuition). Published by the fine folks at McSweeney's (thank you Chris Ying!), this highly anticipated and already beloved magazine is one of many projects coming from one of my favorite American chefs working his ass off today. If you haven't read his cookbook, Momofuku, you really should. (I wrote about it in a previous Foodists article and to date, it is still the most entertaining and informative cookbook I've ever read start to finish. When the upcoming cookbook for Momofuku Milk Bar comes out, I'm sure that'll be a contender.)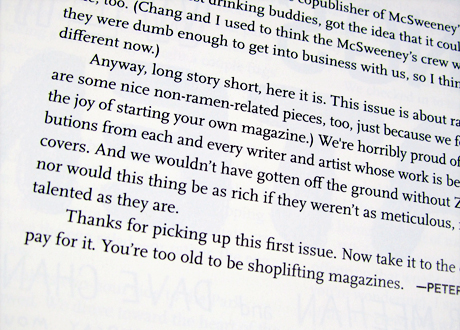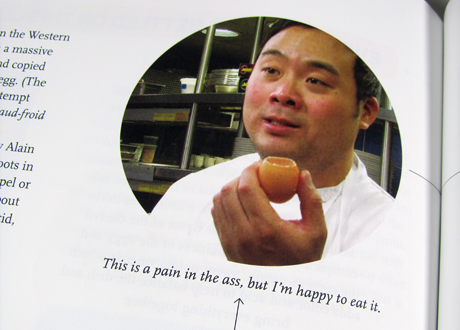 There are commonalities between the two non-glossy magazines; they share very rough or precise hand-drawn illustration and lettering throughout. As mentioned, there is no outside advertising whatsoever (thus making each issue a pricey one considering how thick it is compared to recession-affected publications). Eclectic design plays a key role; in Lucky Peach, each story uses only two house typefaces (Galaxie Polaris & Scala) with its own color palette, grid and design flavor. Both publications also share a real, beyond-obsessive relationship with food. I'm talking the "live, breathe and eat" (duh!) kind. It's your life and passion, you talk about it all the time, it is restaurants not tourist attractions that dictate your holiday plans….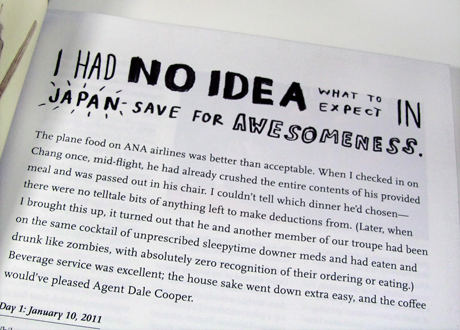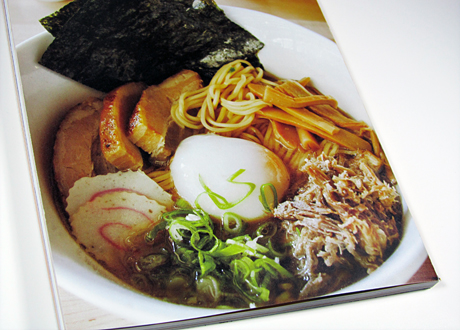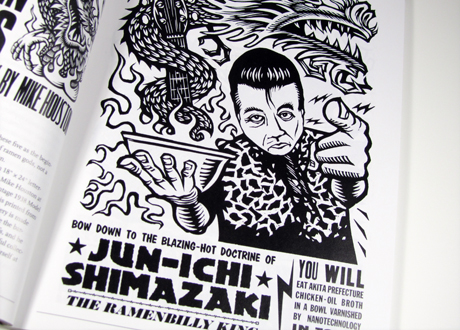 Each issue of Lucky Peach is focused on a single topic; the premiere issue is all about…heart be still, wait for it…Japan's powerhouse contribution to the noodle kingdom: ramen. The first story is on David Chang and Peter Meehan's trip through Japan's numerous under-the-radar ramen and sushi shops. You definitely need to be in the know about David and his flagship restaurant, Momofuku in East Village, New York; if not, you will be. Written in humorous and rapturous vivid hunger-inducing detail, I can verify from personal experience, and from numerous trips to Japan over the years, that eating at those secret off-the-grid places are definitely memorable, and truly a religious, orgasmic delight. I am equally thrilled that this trip has been covered by cameras for the hotly-anticipated and still delayed Lucky Peach iPad app (the footage was originally intended for a TV show; this app was supposed to come out in late Spring 2011).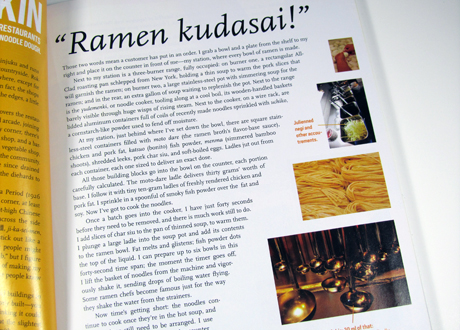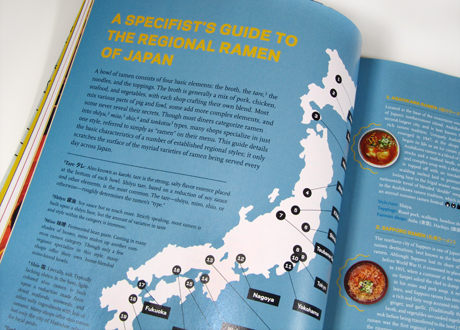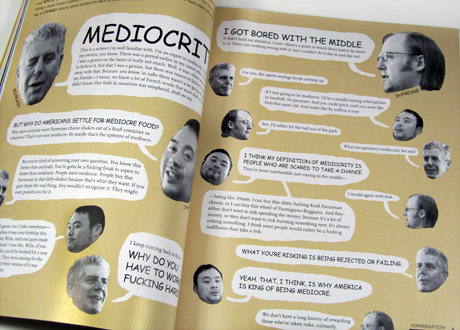 The following stories continue with the ramen thread with a tidy little writeup by fan and friend, Anthony Bourdain, pairing up David's culinary career with 3 Japanese films that touch upon a facet of what drives Chang's intuitive way with food (starting with my one of my all-time favorites, "Tampopo"; the bizarre horror cult-favorite, "House"; and a surprisingly likeable film called "The Ramen Girl" produced by and starring the late Brittany Murphy). Next up is an impromptu art-show featuring woodcut illustrations/mini posters featuring some of the ramen masters talked about in the first story. Following that are heated debates about food mediocrity, a primer on the history and creation of instant ramen (quite fascinating), a brand-by-brand instant ramen taste test with Ruth Reichl and, in perfect David Chang fashion, creative noodle/broth/ramen recipes (mixing in Italian & Spanish flavors, ramen gnocchi and even ramen-crusted skate).  This story really hit home for me personally, as I love to combine ramen noodles with one of my mom's favorite toppings on white rice: stir-fry sirloin beef, onions, mushrooms, ginger, garlic and stewed tomatoes simmered together into a scrumptious sauce. I'm sure everyone has their own ramen combo as an outgrowth of wanting to try something beyond the mystery spice packet!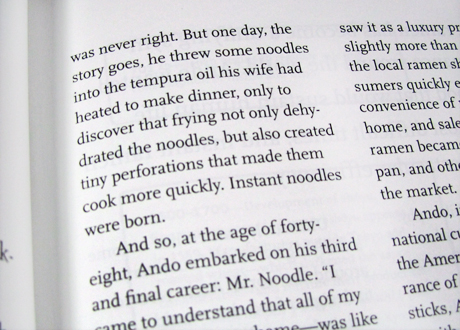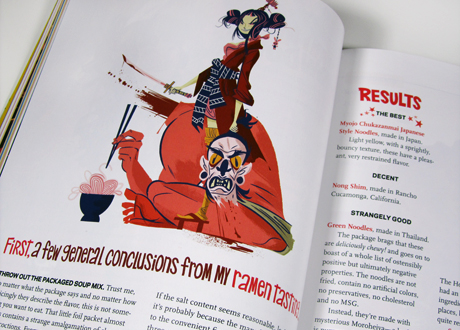 You seriously have to be obsessed about food and ramen to really appreciate this issue, and boy, did I ever. Thankfully for those experiencing ramen overload, they do allow a pause from the obsession—albeit a pseudo-commercial break—in the form of stories telling where and how the best potato chips are made, finding authenticity (in food) in America, a super helpful egg cooking temperature chart (complete with photos of each!) and a translation of a Japanese-short story on a club of gourmet food eaters who stumble upon a mysterious haven for authentic Chinese cuisine (which I personally had difficulty finding on my travels in the land of the rising sun; my fault living in a city with some of THE best Chinese food outside of China).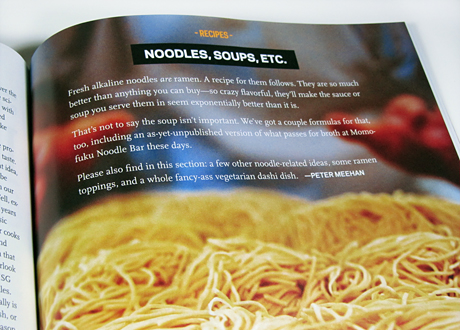 Honestly, to try and compare both magazines to call out a clear winner would be unfair and somewhat impossible. Where Lucky Peach covers a single topic with beyond-obsessive detail, Fire & Knives provocatively focuses on numerous facets of food in our daily lives. Both succeed in their pursuits most admirably and stay true to the original vision of their respective mission statements. How they continue to follow through in successive issues will no doubt get more people talking, sharing and obsessing about their love affair with food…and dear reader, we both know there are already many.
Lucky Peach is available in Vancouver at Barbara Jo's Books to Cooks, Amazon or via online subscription; Fire & Knives is only available at UK shops or via online subscription.