NYC: Eating up Manhattan
Posted by Nancy Wu on Monday, July 13th, 2009
Tags for this Article: 'wichcraft, Anthony-Bourdain, bento, brisket, chocolate, David Chang, fish tacos, foie-gras, fries, Ippudo, Ippudo NY, Japan, Katz' Deli, Manhattan, marscarpone, meatloaf, Milk Bar, miso, Momofuku, Monster Sushi, New York, noodle, NYC, Pasta, pastrami, Patsy's Pizzeria, Payard, pizza, pretzels, ramen, roasted pork, Schnipper's, sloppy joes, soup, Ssam Bar, steamed buns, sushi, Tom Colicchio, tonkotsu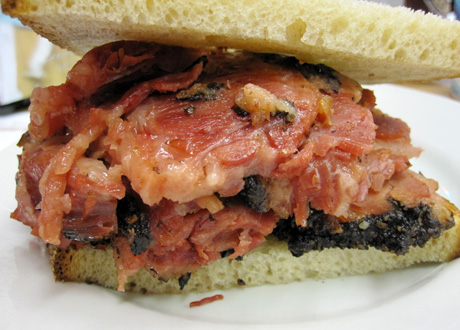 It's been 7 years since I last visited NYC. My memories are foggy but I remembered something about piles of hot succulent pastrami at Katz' as big as a small child's head (since shrunk to the size of small gerbil's head), incredible chocolate filled croissants from Payard and amazing New York style pizza at a place named after a woman with a logo that had script lettering on an angle. Now a matured full-blown foodist with adventurous bravado (A.K.A. I can take a train there myself) we ate our way through Manhattan for 12 days and now it's time to share the love.
As often said, American portions are big—sometimes huge (4 pieces of fried chicken plus a generous dollop of mashed potatoes, gravy and a side of boiled spinach for an adult serving!), but when well chosen, pretty outstanding. Patsy's Pizzeria is one of them.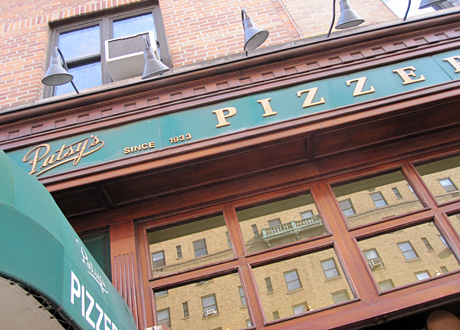 Visiting their W 23rd location in Chelsea three times they were consistent with their homestyle preparation of superb pizza & pasta. The secret? There is none I can tell other than fresh ingredients, authentic Italian flavors, a hot coal oven and the perfection of Mr. Patsy Lancieri who opened the first Patsy's in 1933. I had difficulty shooting our visits simply because it smelled and looked so inviting that I forgot to shoot and simply dug right in to enjoy.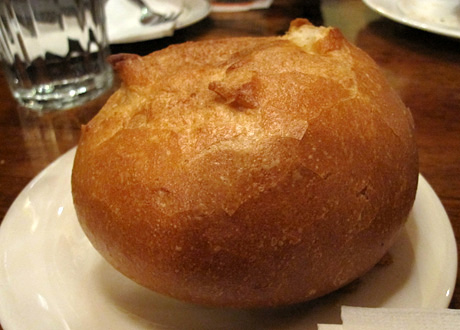 Upon your order, you were served hot crusty bread formed as individual rounds with dimples at top. Cracking it open, it was soft and chewy inside with a crispy hard flaky crust, as perfection dictates. Paired with a bottle of the tastiest olive oil (containing a fresh rosemary branch) it's a reassuring cue of what's to come.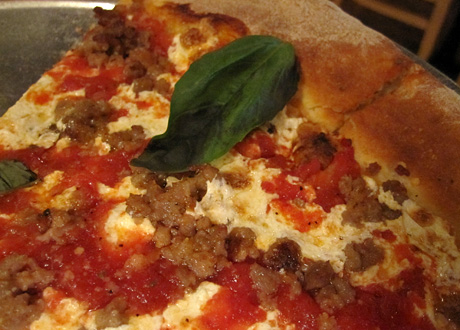 Their pizza crust is thin and crispy just the way I like it, the tomato sauces flavorful and fresh-tasting, the cheesy gooey & buttery as it should be, and the basil leaves to top it off make me never want to go back to dried herbs.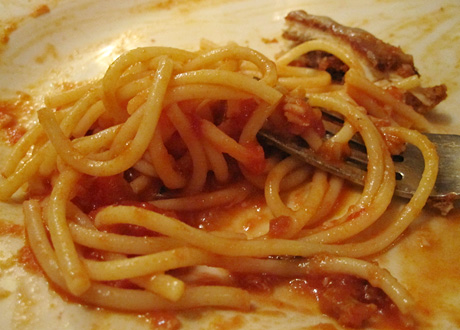 As for pasta, it's always cooked to perfection with the right amount of firmness and enough starchy goodness to allow the chunky sauce to stick to it with every mouthful. With 6 locations throughout NYC, I WILL be back.
Monster Sushi on W 23rd was another regular haunt for their fresh sushi, the tastiest miso soup I've ever had and affordably delicious bento (Japanese box lunches).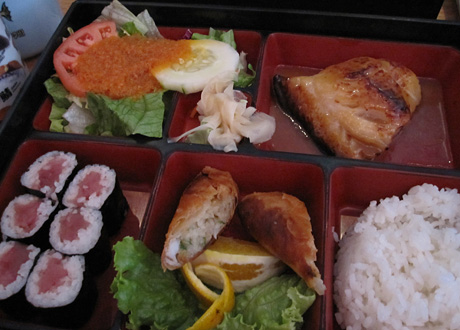 I can't recall the last time I had a bento with roasted black cod in miso or grilled Chilean seabass with a ginger soy sauce. Their staff are friendly & prompt, their interiors are clean & modern with a great collection of various monsters (including a cool metal Gojira) surrounding the sushi bar.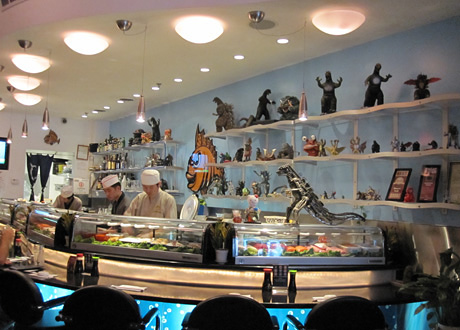 Schnipper's Quality Kitchen is described by fellow Foodist Alex as THE cleanest place in Manhattan for lunch. Situated in the Theater District across from the Port Authority, it's not the cheapest place for a sandwich, but certainly a tasty one depending on what you order (the Mac n Cheese looked too gooey, I mean gluey). You enter into the whitest of interiors with high ceilings, metal and glass all around, plus accents of red throughout.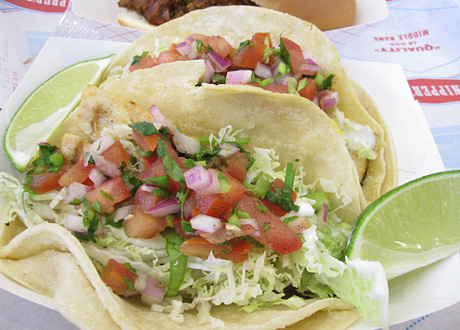 Highlights were the fish tacos (yummy, fresh, light), Sloppy Joes (super tasty, with a lovely mix of veggies and ground beef) and crispy fries (well-seasoned and great dipped into the joe). We only went once so I can't vouch for the other menu items, but their Sloppy Joe's definitely had an impression on me.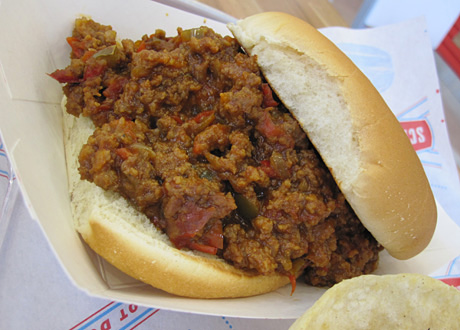 An outstanding lunch experience all round was 'Wichcraft (created by Tom Colicchio of Gramercy Tavern & Top Chef). With several locations throughout the island, we stumbled upon the beautiful Bryant Park on a weekday spotting crowds of locals in a briskly moving line. Going for the warm sandwiches, we went for the meatloaf, slow-roasted pork and a kid's grilled cheese.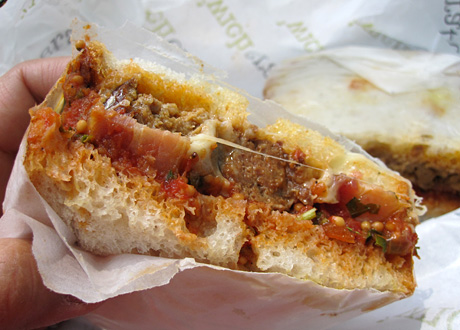 Their grilled sandwiches were truly a mouthgasm; that meatloaf made me forget about missing the Schnipper Joe with its delightful combination of beef, cheddar, bacon & tomato relish on fresh bread (I swapped the ciabatta roll for country bread which was messier but softer to eat). I did manage to get a bite into my husband's slow-roasted pork (served with red cabbage, jalapenos & mustard on a cibatta roll) sandwich, and it was so yummanah. Highly recommended!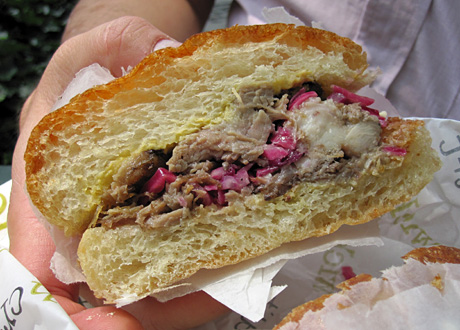 Best meal on this trip hands down was David Chang's Momofuku Ssäm Bar in East Village. We arrived at 6pm and was surprised to have no problem getting seated. That was less than an hour before the entire place was filled to the rafters with loyal fans and more waiting patiently outside. Their simple menu was full of fresh ingredients (noting where it came from) with unique combinations that sounded so exciting we didn't know where to start.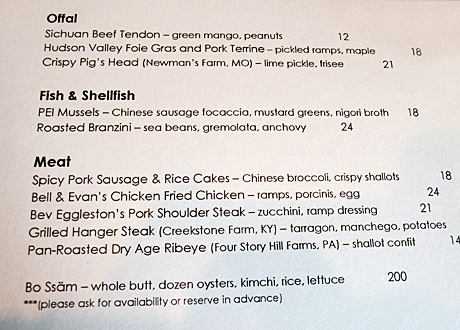 Some were rather pricey ($140-200!!) but seeing large parties of 10+ feast on all that meat we could see why. Dining with local food-writer friend Seanan, we were encouraged to try the Seasonal Pickles (shiitake mushrooms were addictive & the kimchi was fantastic) and Momofuku Pork Buns (soft steamed buns with roasted pork belly, hoisin sauce, cucumbers & scallions—peking duck style). These were highly recommended by friends and were INCREDIBLY delicious!!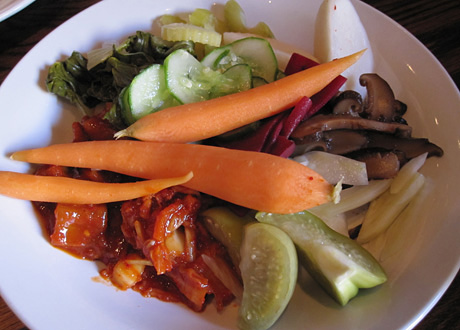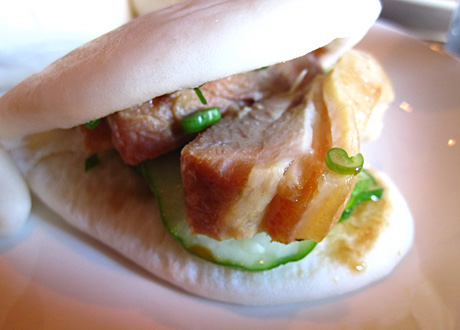 Our server helped us out by suggesting Bev Eggleston's Country Ham (from Shenandoah Valley, you'll never go back to processed ham again), Hudson Valley Foie Gras and Pork Terrine (sorry ducks but you were outstanding paired up with perfectly toasted baguette slices) and Spicy Pork Sausage & Rice Cakes (with Chinese broccoli & crispy shallots).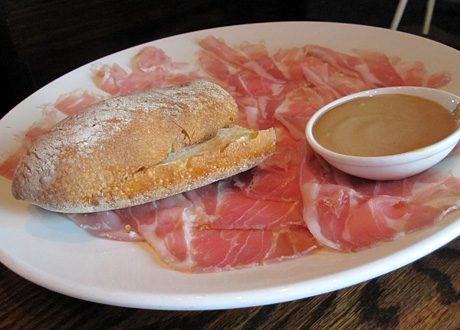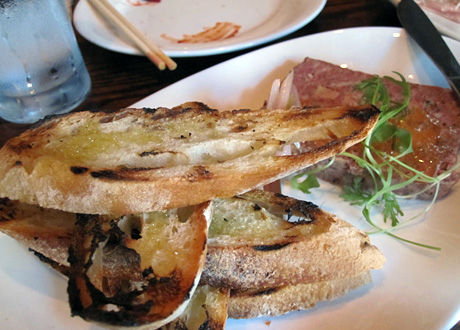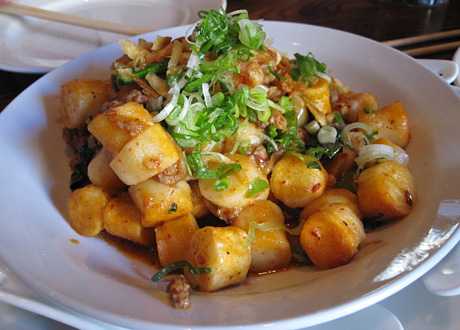 Ours was a bit salty but I loved it a close second to the steamed buns. The rice cakes were unexpected in their preparation—a long super thick rice noodle cut up and fried on a flat pan—but so good I couldn't stop eating them. (I'd call them rice crack.)
Our first experience at Momofuku (which means Lucky Peach, btw) was easily a flavorful food experience like no other. Everything was succulent, balanced, highly textural (marrying crispyness with delectably smooth sauces). Chang and his menu were also featured on Anthony Bourdain's Food Porn Episode of No Reservations where you can see some of what I'm talking about. And it doesn't end there. He also has 3 other restaurants including his Noodle Bar, Ko and on the other end of Ssäm Bar, the Bakery & Milk Bar. Quite the experience for a lover of sweets, it was also crowded with faithful worshippers.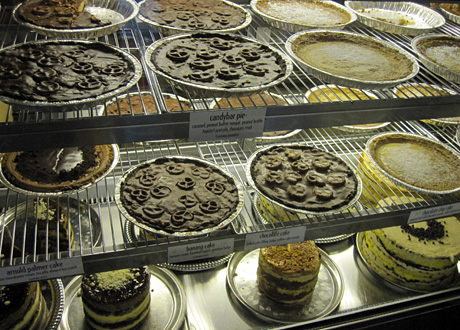 I marveled at the unique and visually appetizing pies with so much chocolate and…pretzels?!?! Indeed. I just had to try a couple that I knew would make a wicked breakfast the next day.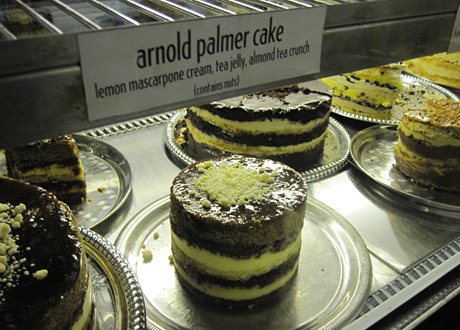 The Arnold Palmer Cake (with Lemon Mascarpone Cream, Tea Jelly & Almond Tea Crunch) was SO delicious and not overly rich or sweet thankfully. It also holds up great for takeout and like the rest of Momofuku's menu, so addictive, it's hard to stop at three bites.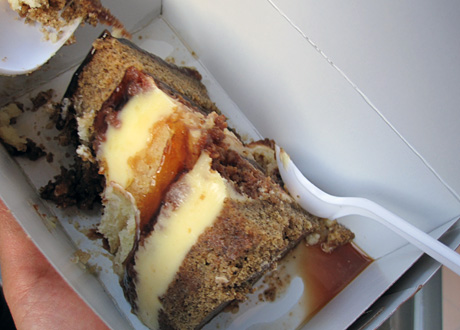 Their trademarked Compost Cookie contains the unlikely combination of potato chips, pretzels, coffee grounds, graham oats, chocolate & butterscotch chips. Chewy & crunchy at the same time, it presents numerous flavor surprises in your mouth.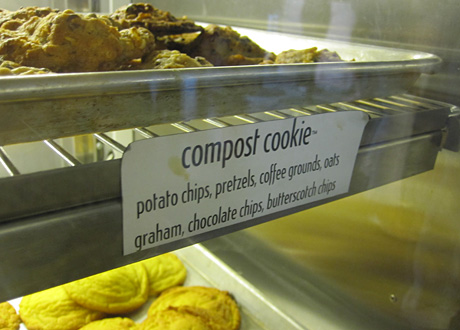 One moment you get the potato chips & pretzels, then the sweet chips and then it fades out with the hint of coffee that you don't need to make a Starbucks run afterwards. I can't say enough how much I love Momofuku and hope it will stay brilliant forever. (And if you can't get to Manhattan anytime soon, David Chang, Peter Meehan & the entire Momofuku team are featured in their highly anticipated cookbook, available in October by Clarkson Potter. Consistent with their unique food innovations, the book's cover features a wooden texture with a peach illustration instead of showing an overused chef smiling-with-food shot.)
A close second for best meal and best ramen ever is Ippudo NY in East Village. Open for 2 years to a serious cult following, Ippudo has several chain restaurants in Japan but this is the first outside of the country that created Tampopo, the film that celebrates the almighty noodle. With an unassuming store front, the inside is large, modern and beautifully designed both in interiors and décor, while supported with tasteful artwork throughout (including a dried-ramen filled bartop!). They have a variety of grilled specialties–the grilled beef tendon & unagi were flawless–but the reason to go is of course…ramen! (Let's just say that we liked it so much we went again 2 days later to cap off the end of an incredible holiday.)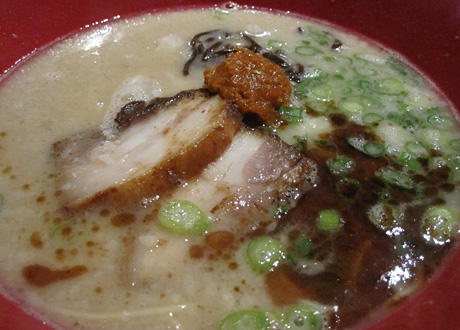 The Akamaru Modern (the "original tonkotsu" with Ippudo's special sauce, miso paste and fragrant garlic oil; slices of braised Berkshire pork, cabbage, onions, kikurage & scallions) easily blew us away. The essence of the broth once mixed with their savory and flavorful sauce took us both to a higher plane…well, let's just say we didn't talk much and said MMM quite often. Everything was cooked to perfection and I am VERY picky about my noodle texture (not too hard and definitely not pasty).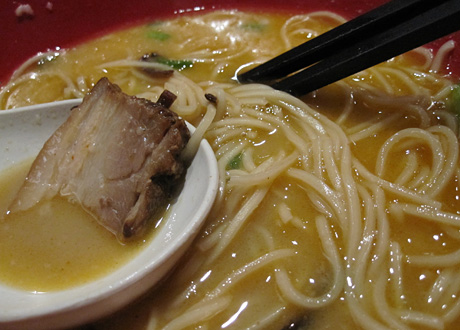 The ramen was fresh, chewy and light yet thinner than their Northern Japan counterpart which tends to be flatter and thicker. The pork was soft, moist and delicate, but most crucial of all, the broth was incredibly tasty, not oily, complex, and stayed hot right down to the bottom of the bowl. For $13, it's a bargain for local standards and very filling. (For bigger appetites, you can have "Kae-dama" for an additional $2. It's the system that offers you an extra serving of noodles before you are just about done with the first batch and have saved enough soup to accommodate more. You order it at the right moment and your server arrives seconds later with another "ball of noodles" to keep the ramen-love going.)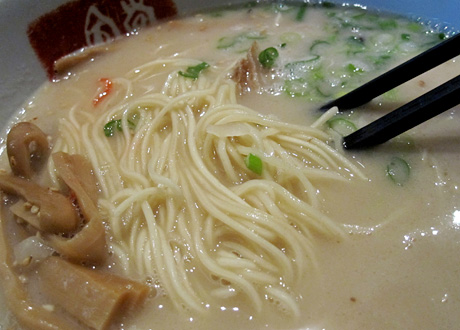 On our next visit we tried the Shiromaru Hakata Classic, which is the more traditional tonkotsu soup with pork, kikurage (wood ear mushroom), red pickled ginger, menma (bamboo shoots), ½ seasoned hard boiled egg, sesame & scallions. Also VERY VERY good. Both times our son slurped (or more accurately inhaled) his shoyu ramen (soy sauce flavored) that contained an IPPUDO branded piece of scrambled egg. Kawaii!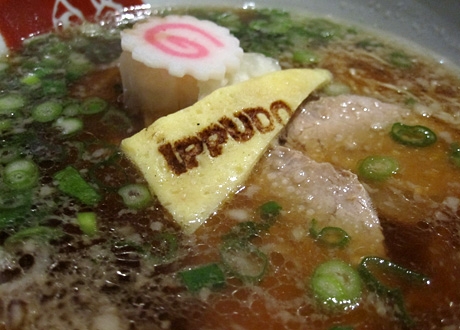 I never expected to have ramen as good as what I experienced several years ago in Hokkaido at a nameless ramen shop, but this will definitely do.
I can't leave without a simple nod to Katz' Deli. Sure, it's considered overrated after their role in "When Harry Met Sally." Sure, their lack of accepting credit cards or sluggish table service leaves less to be desired. Oh, but the meat, the hot moist, juicy succulent pastrami and brisket!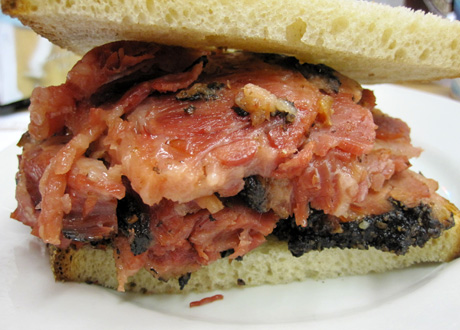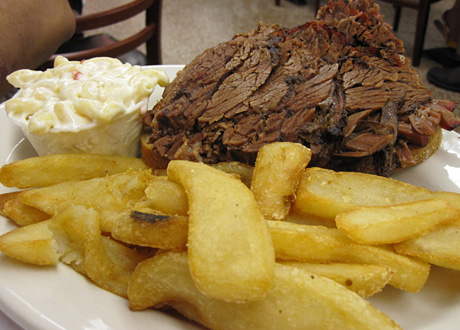 Those salty crispy thick steak fries dipped in the beefiest yummiest gravy known to cow-addicts worldwide! That's what keeps people coming back and forgetting….what was I talking about? Oh yes:
I love food. And I love food in Manhattan. Mwah mwah, I love youse!
My thanks to Marian, Seanan, Alex, Eagranie, Marilyn, Arianna & Eric for their excellent recommends!
P.S. Print Magazine (a design publication headquartered in Manhattan) celebrates everything about food in their latest issue (July/Aug), exploring food blogs, art directing and photographing food, vintage UK candy packaging, designer's favorite foods and repackaging legal pot (some people DO consider it a food group). They provided some great weblinks to help you find other places to eat should you find yourself hungry in NYC, including menupages.com & midtownlunch.com.