The Sunday Sauce: Neapolitan Ragu & Braciole
Posted by Dave Delibato on Saturday, September 10th, 2011
Tags for this Article: braciole, Campania, italian, italy, meat, Naples, Pasta, penne, rigatoni, sauce, spaghetti, tomato
From noble stock? Not I. But I'm comforted personally by the notion we're all dirt-digging peasants with appetites base and common. After all, many of the world's proudest culinary traditions came into being as strategies to transform the somewhat inedible into the incredible. The spice trade was the product of pre-refrigerated world; an effort to preserve and make protein portable. Same goes for contending with tough and less desirable cuts of meat. The peasantry would sell their choicest cuts to the nobility, retaining the rest for themselves. But what to do with these sinewy, tough cuts? Low and slow is the rallying cry of the barbecue but also true for the braising pot.
I'm about to share with my fellow peasants a dish of my people – the denizens of the region of Campania, Italy (the largest part includes Naples and its suburbs). As a young girl, my mother would run outside at first snowfall anxiously, only to discover it was white ash belched up from Vesuvius. Ironically and all too soon, she would be waist-deep and shoveling her chilly, childhood desire in Canada. And when she pined for her birthplace – a little town on the outskirts of Naples – this dish could take her half-way home. I give you the Neapolitan Ragu. And by "Ragu," I don't mean gluey nastiness in a jar. This is from scratch.
Asking you not to add any flourishes of your own to this sauce would be somewhat dictatorial and off-putting. And though stifling creativity normally dismays me, colouring outside the lines I'm about to trace for you is not Neapolitan. There's no room for diced carrots or zucchini. There are no mushrooms. Oregano is best left on the spice rack, for now. Here's what I'm selling – meat braised in tomato sauce in a magical alchemy that will surprise and delight.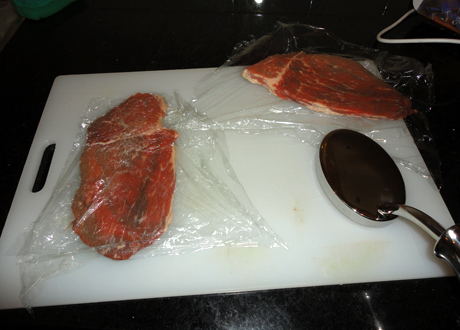 STEP 1: Assess your meaty circumstances
Basically, you can opt for pre-cut, minute steaks (generally, my preference) because it saves time and effort and you get to work with a more uniform butcher cut. Or you can cut them off a roast, like I've done here. This was Angus round pot roast. It was striated with fat, silver skin, tough and sinewy in places and generally the most flavourless cut of beef – which is perfect for several reasons. 1) the fat and connective tissue will render out into the sauce. 2) it will braise and turn tender. 3) a braciole is spiced, so we're adding flavour anyway.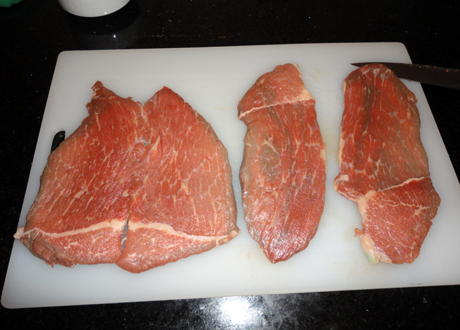 If you're using steaks cut from a roast, cut them to reasonable, workable thinness. Then bash them with a tenderizer so you end up with cutlets. Make sure you roll up the meat with the grain – that way when you cut the braciole to serve it, you're cutting against the grain.
Note: a good, complex and classic Neapolitan ragu's rich background flavour comes from the right mix of some or all of the following meaty elements: a braciole, chunks of stewing beef, meatballs, a link or two of sausage (Italian – never smoked), perhaps some chunks of stew pork or chops and maybe pork skin braciole or "cotenna" (see the photo and notes at the very bottom of this post) and maybe even a soup bone. Some add pieces of lamb, though its distinct flavour could ruin your sauce, if excessive. Many also use veal. But considering how delicate veal is, I feel it's a waste to put it into a braise. Plus, the true magic of ragu is to transform bad cuts into uncommonly edible food. The flavours are also very bold. I think veal is far too delicately textured, flavoured and pricey for this dish.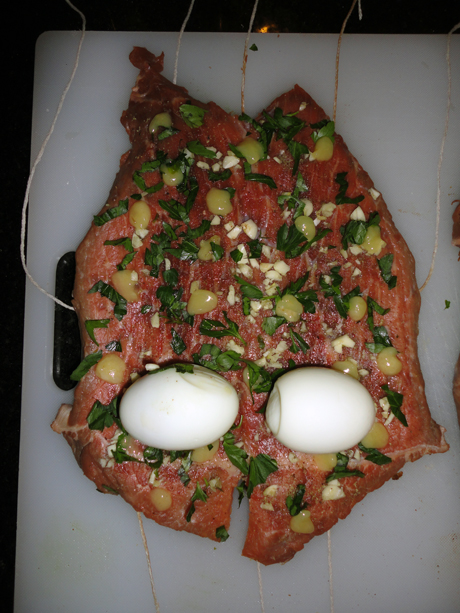 STEP 2: Season and stuff your meat
Here are two variations on the same idea. But regardless of which braciole you make, the traditional seasoning is the same, up to a point. You can see here (in the photos above and below) that I've spiced the meat with minced flat-leaf parsley, minced garlic, pepper and salt and you'll need little pats of fat in there (the beige little pieces in mine are some rendered roast beef fat I had) to keep things moist. For this, you can also use little knobs of butter or even a dousing of vegetable oil. Above shows a braciole I'm filling with two boiled eggs. This creates a tasty and visually pleasant result after it's cooked, cut and served (this is the way my ma makes it).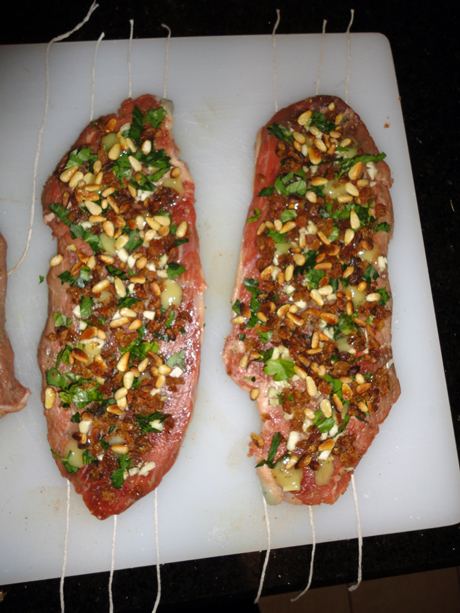 The image here, shows a couple of braciole where I've put roughly chopped raisins and pine nuts. Although my mom never makes it this way, my great aunt from Formia did. Plus, I know it's legit throughout Campania, so I'm doing it here.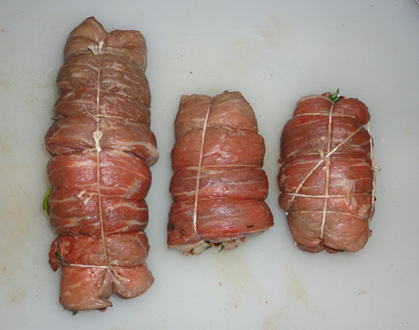 Notice I've got butcher twine beneath all the braciole? This is so when they're rolled up they can be tied off to form a roll (as seen above). If you know fancy butcher knots, go for it. I don't, so I just made my ties – a few around the roll and one lengthwise. The rolled and tied braciole are shown here in their raw state. Salt and pepper them, liberally.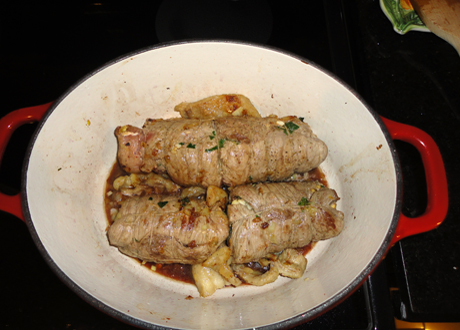 STEP 4: Get browning
Now, we cook. On medium heat, bring vegetable oil to a fry in a heavy-bottomed pot. I've included a few pieces of fat I had and rendered them down in the oil, too (duh — because I get to add flavour with something people throw away). Then we add some minced onion and fry that off till translucent and starting to brown. Add our braciole (I did it in stages because I was doing 3 of them – normally, you'd make just one) and brown them off. When everything is browning and starting to smell good (after all, you are frying meat and onions) you add about a ½ cup of red wine. Deglaze the pan (lots of brown bits to scrape off) and cook it off. What you'll be left with is a savoury, fatty, carmelized flavour base. The ideal environment for…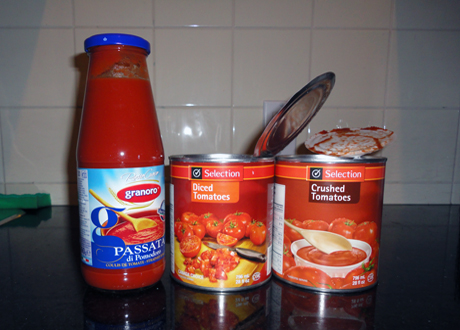 STEP 5: Tomatoes
This is essentially the consummation of the two great halves of any ragu – meat makes the delightful acquaintance of tomato. My mom only uses passata (tomato pulp – commonly called "crushed tomatoes"). Here, I have the canned stuff as well as the expensive bottled stuff from Italy. I also like diced tomatoes in mine because it makes it makes for a thicker end product, which I prefer. In any event you add these to the pot (assuming the wine's reduced and you've scraped up the caramelized, stuck-on bits at the bottom). This is also a great time to add some aromatics to the pot (more flat leaf parsley, a broken-up stalk of celery. A slice of red pepper (say, 1/6 of a pepper) and some basil would've also been nice, but I didn't have any). These aromatic elements can be removed later, if you prefer. Also important is to add a generous tablespoon of tomato paste, for richness of flavour and colour.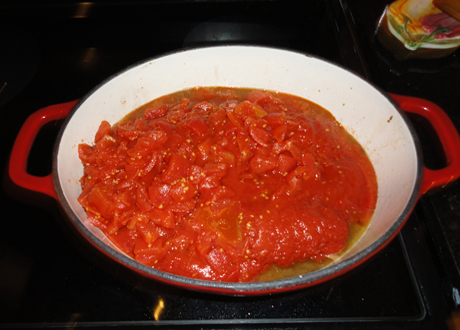 I also plunked in a few pre-cooked meatballs I made a few weeks before and had frozen. Add salt, a few good grinds of black pepper and a half-teaspoon of chili flakes. Stir it all together very well (every time you stir, get the ladle or wooden spoon right down into the bottom of the pot and really make sure nothing is sticking) set a timer for 15 minutes.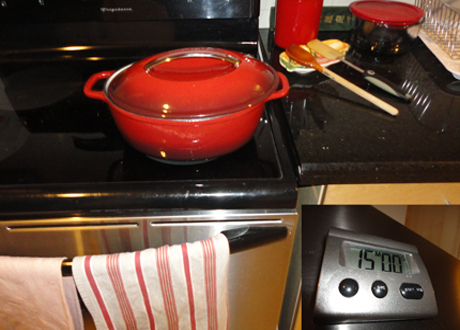 STEP 6: Give it time
Once it's all up to a light bubble, reduce heat from medium to medium-low. Stir well. Then set the timer for another 15 minutes. Stir it well, again. Proceed to repeat this procedure for the next hour and a half to 2 hours. The alchemy of the tomato pulp turning to sauce will reveal itself unto you. It will change from raw tasting tomato into a rich, flavourful meaty sauce, but it takes time, low temperature and stirring.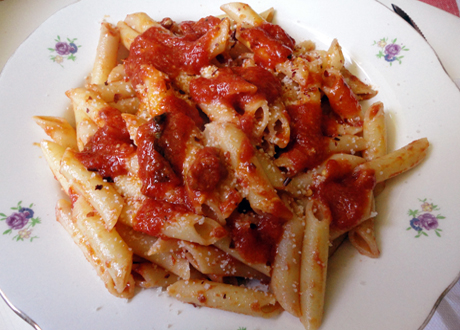 STEP 7: Eat
Once the sauce has reached its tasty potential (you'll know when because it will smell and taste pretty much like heaven) there's just one thing left to do.
You need to choose a pasta that stands up to a bold, meaty sauce like this. That means tube macaroni – either rigatoni, ziti, penne, etc. Spaghetti, linguine, angel hair pasta and the like are okay but not quite right for it. However, a big noodle like bucatini is also a good choice. Get a quality pasta – most Canadian pasta passes muster (Canada's a big producer of durum semolina wheat – chief pasta ingredient) but Italian brands are generally better. Cook till al dente (of course). Strain, keep in the pot and add ladlefuls of sauce. Fold in the sauce until well incorporated, taking care not break up the pasta. Serve with grated Parmesan and/or Romano cheese and more sauce on top. Goddamn. Wish I was there to see the look on your face when you eat this. Enjoy.