Does A Negroni Improve With Age? Yes. Especially If You Age It In An Oak Barrel!
Posted by Mark Busse on Sunday, November 27th, 2011
Tags for this Article: aging, barrel, campari, cocktails, french oak, Gin, Manhattan, negroni, rye, vermouth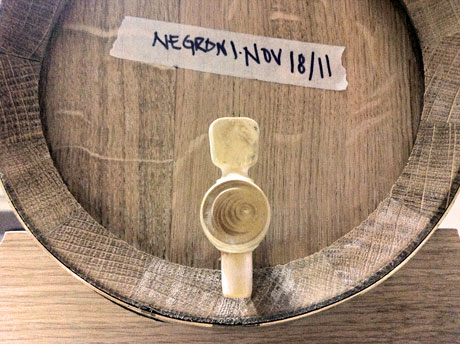 Aging cocktails isn't a new technique—in fact it used to be the norm a century ago—but only in recent years has aging cocktails in oak barrels made a come back in Europe and the US—even the New Times is talking about it.
London bartender extraordinaire Tony Conigliaro kicked off the trend a couple years ago, but it was Portland's Jeffrey Morgethaler (Clyde Common) who made the practise mainstream in the US, followed by restaurants and bars across the US. Curiously, I've not seen the trend much locally, with notable exceptions being L'Abbatoir in Vancouver (love that place) and Liberty in Seattle.
But why wait for overpriced bars when you can barrel age your own cocktails at home?
I recently got to meet and enjoy a barrel aged cocktail made by Grey Goose's global brand ambassador Dimi Lezinska. Seeing how interested I was in how he had used an oak barrel to enhance my Negronski (a version of Negroni made with vodka instead of gin), he gave me some pointers on how to age cocktails at home and generously gave me the French oak barrel he had used.
The technique is pretty simple really. Using spirit-based cocktails that don't contain ingredients that spoil, you pre-mix the cocktail to your taste and let it rest in an oak barrel for between a couple weeks to as long as a couple of months. "My advice is to make the cocktail the way you like it first," instructed Dimi, "then after some time in the oak, store it in a nice glass bottle and it will only get better with time."
Lezinska says the length of time depends on the type of spirit you use, the flavour profile you're after, and how many times the barrel has been used previously. But in the end it's really up to your taste, so keep a baseline (un-oaked) and taste to compare often.
According to this article where Jeffrey Morgenthaler explains his approach, the alcohol extracts colour and flavour from the oak over time, and an oxidation process occurs through the oak, while the constituent parts themselves meld together, creating a more harmonious elixir. Beyond the nuttiness one might expect from wood, the oak adds notes of caramel and vanilla, and if you patiently leave the cocktail in the bottle for more weeks or months (this is the part I struggle with) the aging process continues, resulting in a mellow and smooth cocktail with softer mouthfeel.
Now tell me you aren't dying to do this yourself, right?
Barrel-Aged Negroni
For our first foray into the barrel aging, I assembled a core group of Foodists members who appreciate a finely-crafted cocktail (or three) and we agreed to start with a classic Negroni (equal parts gin, sweet vermouth and bitters). After a long debate over the brand of each ingredient, we settled on Plymouth gin, Vya sweet vermouth and Campari.
We all met at Foodists headquarters one Saturday afternoon and fiddled with proportions (not quite equal parts as is the convention) until we all agreed with had the perfect Negroni. Into the barrel it went. Note: a funnel works much better for this than tin-foil. Just sayin'.
After a couple weeks we decided it already had enough "oakiness" (Lezinska warned us that French oak had stronger flavours that American oak) and, after a pass through a sieve to remove any bits from the barrel, into bottles it went. Of course we had to have one on bottling day to celebrate!
I've been enjoying outstanding Negronis at home for the past two months and it tastes better every time.
Barrel-Aged Manhattan
After the success of our first attempt, we decided to try something that would be complemented by the residual flavours left in the barrel—a classic rye Manhattan. For the next three weeks we literally referred to it as "The Manhattan Project". Nerdy, right?
After more heated debate over ingredients, we landed on (rî)1 Rye (otherwise known as Rye-one or R1 Whiskey) and Carpano Antica Vermouth, opting to skip adding any maraschino liquor or bitters prior to aging, deciding to leave that as a finishing choice based on personal preference. (Note: I personally love a dash of orange bitters and a brandied cherry in mine. Yum.)
Because the base spirit in a Manhattan is already barrel aged, we left our cocktail in the barrel for a couple more weeks than the first batch, testing it every few days until we detected the tell-tale woody notes of caramel and vanilla.
Of course we had to try some immediately. Absolutely delicious and better each week since.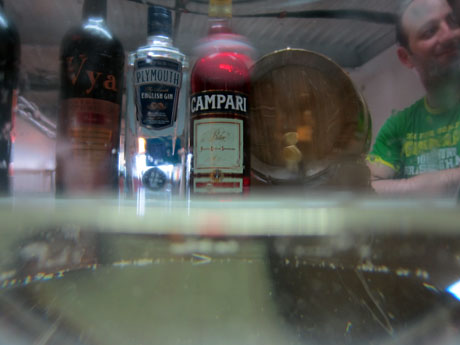 What's Next For Our Little Barrel?
We recently starting our third batch of barrel-aged cocktails, going back to the classic Negroni (we're all basically out already!). This time we're using Beefeater Gin and Campari, but using the more herbaceous Punt E Mes sweet vermouth for more bitter notes. The plan is to leave it on oak even longer for added flavour depth. Wish us luck!
In the end we all realized something important about these cocktail experiments. With all the fussy over ingredients, proportions, and time in the barrel, it mattered little how close we came to creating the perfect cocktail mix or what enhancements we added during the oak barrel aging process. The "perfect cocktail" for us happened when we Foodists gathered around our little barrel and raised a glass of our cocktail creations, knowing it would only get better in time left in the bottle.
Have you tried oak barrel aging cocktails at home? Got any tips for us?